Mouth-watering pastries and philanthropy may seem an unlikely combination. Connie's Bakery and General Store in Mt. Kisco is quickly changing that perception. What pervades this general store that sells handmade goods and the bakery's delectable creations – from cupcakes, chocolate chip cookies, candy apples to an assortment of cakes – is the philosophy of giving back to the community. The establishment, which opened in February 2005, donates 100 percent of its profits to area charities through its non-profit giving vehicle, Foundation Sweet Success.
Giving back is a tenet that Connie's eponymous founder (and Scarsdale native) Connie Milstein has lived by much of her life. "I've always believed that after having been put on earth and receiving the gift of life, each of us should give something back for having received that gift," the mother of two says. "I've had a very fortunate life, and those of us who are lucky enough to have should give some of it back to those who don't."
To that end, Milstein, a lawyer and prominent real estate businesswoman, has lent her hands-on approach to many charitable causes. She is a founding member of Medical Missions for Children, which provides medical advice for children in need in foreign countries. She is on the boards of numerous philanthropic organizations. And she opened Connie's sister location in the lobby of Northern Westchester Hospital in Mt. Kisco in December 2006. Every year, Connie's gives to six local charitable partners. A recent recipient was Back to School Clothes for Kids, which enables kids from low-income families in Westchester and the Bronx to get new school clothing.
The bakery offers a unique program that provides baking apprenticeships through Westchester Community College's JobSTAR program to Westchester residents who have faced difficulties, ranging from educational to economic, in obtaining steady employment. The aspiring chefs serve one year of their apprenticeship, and are paid the living, not minimum, wage; they have access to full benefits as well as a retirement program. Many use their newly acquired culinary expertise to move on to gainful employment in the food service industry, and thus make way for a new crop of apprentices for the program. They train under Connie's executive pastry chef, Simeon Manber. He has honed his craft at many well-known New York City eateries, among them Mario Batali's restaurant Babbo, where Manber was assistant pastry chef.
"We interview people every six months for our apprenticeship program," Manber says. "Many of our graduates have gone on to jobs in the food service industry and elsewhere."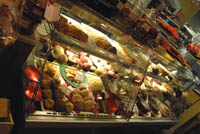 He proudly mentions that the assistant pastry chef at Connie's, Jamie Jeffrey, started out as an apprentice in the program. "I've had my share of fortunate experiences working at some noted restaurants," Manber says, "and I am excited by the fact that I get to help others in some way. People coming into our program really want jobs and they work hard."
Deena Plotka, chief operating officer and president of Connie's Bakery and General Stone, says that although it is exciting to receive new apprentices every year, the atmosphere is a close one and it's sad to see people go. "We are like a family here, so people don't want to leave," she says.
In keeping with the company's mission, any leftover food from the end of day's business at Connie's does not go to waste. It is given to Food-P.A.T.C.H., a Westchester food bank. And its philanthropic philosophy extends to social responsibility. "We make our buying decisions largely to help local farmers and artisans," says Plotka.
The general store, for example, features handmade toys and baby clothes made by local artisans. "One company whose pewter and sterling silver jewelry we sell donates 10 percent of its profits back to charity," Plotka says. Both the bakery and general store have a "great repeat clientele," according to Plotka, but also rely on word-of-mouth. The establishment is tucked away on a side street and therefore not conspicuous to the general public. It is doors away from Starbucks. "We love it when people find us for dessert after their coffee," Plotka says.
The bakery's repertoire also includes handmade jams and gift baskets. All of this sweetness comes back to one thing: "The goal is to give back," Milstein says. 'We give people opportunities, we train and guide and bring sweetness to the lives of others."

Connie's Bakery and General Store is located at 41 S. Moger Avenue, Mt. Kisco. 914-242-2014; 866-926-6643; www.connies.org.