We've compiled some of the best family events happening this December in Westchester County, NY. You'll find a plethora of kid-friendly shows, holiday celebrations, and much more.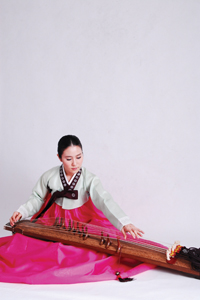 A Cultural Musical Tribute
Celebrate Korean Folk Art Day as two traditional musicians, Seungmin Cha and Yewon Kim, perform sanjo, solo instrumental music for the daegeum, a traverse bamboo flute, and the gayageum, a 12-string zither. The program will also include pansori, the folk narrative opera for solo singer and drummer. December 4 at 1:30pm. FREE. Pelham Art Center, 155 Fifth Avenue, Pelham. 914-738-2525.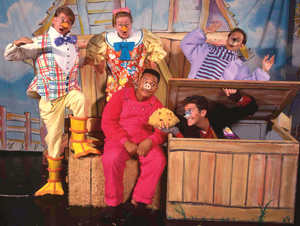 The Power of Friendship
E.B. White's classic, Charlotte's Web, is brought to life by Theatreworks USA. Charlotte (a spider) and Wilbur (a pig) are unlikely friends, but when Wilbur faces the troubling prospect of becoming pork dinner, it's Charlotte to the rescue. Spinning words into her web, Charlotte makes a miracle of Wilbur and turns him into a sensation too prized to be eaten. Appropriate for ages 4 and older. December 4 at 11am and 1:30pm. $18; $13 children. The Emelin Theatre, 153 Library Lane, Mamaroneck. 914-698-0098.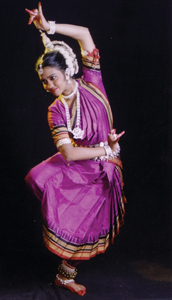 Celebrate Diwali
Celebrate Diwali, the Indian Festival of Lights. Diwali is a major festival for Hindus, Sikhs, Buddhists, and Jains, who believe that light is a metaphor for knowledge and signifies health, wealth, and peace. The program includes Rangoli design, a traditional Indian art form, and the opportunity to make individual diya clay pots. Families can also participate in the ancient art of Mehndi with artist Manjula Kandaswamy and there will be a classical Indian dance demonstration and workshop by professional dancer Sonali Mishra. December 5 at 1:30pm. FREE. All ages. Pelham Art Center, 155 Fifth Avenue, Pelham. 914-738-2525.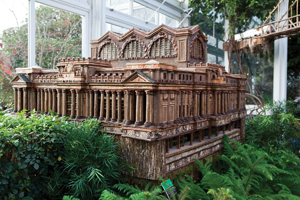 Holiday Cheer
Check out our top picks to celebrate the season.
At left: A Pennsylvania Station replica at the New York Botanical Garden's Holiday Train Show.
The Third Annual New Castle Community Sing is a combination variety show and sing-a-long that features talented, local performers. Lyrics will be provided so that everyone can join in or simply listen to the sound of a full orchestra. The concert will conclude with a short parade to the old Greeley House for the New Castle Historical Society's holiday tree lighting. December 4 at 3:30pm. FREE. Robert E. Bell Middle School Auditorium, 50 Senter Street, Chappaqua. 914-238-9220. www.chappaquaorchestra.org.
Visit and have your picture taken with Old Saint Nick at Breakfast With Santa. Enjoy a breakfast buffet, arts and crafts activities, and music. December 5 at 8:30am. $45; FREE children under 3. The Ritz-Carlton Westchester, 3 Renaissance Square, White Plains. 914-467-5817.
Celebrate the holiday with Chanukah Wonderland. Decorate a dreidel, craft a Chanukah candle, be entertained on the multi-media stations, take a picture with Judah the Maccabee, join an ancient archeological dig, and shop for presents. Plus, replicate the delicate process of extracting pure olive oil as done during the Temple period using an authentic oil press. Every day through December 8. 11am. FREE. Chabad of The Rivertowns, 27 Center Street, Ardsley. 914-693-6100.
One of the most eagerly anticipated traditions of the season, the New York Botanical Garden's 19th annual Holiday Train Show with Gingerbread Adventures, presents an enchanted New York wrapped in the glow of twinkling lights. More than a dozen large-scale model railway trains - from late-1800s American steam engines, streetcars, whimsical ladybugs and circus cars, to modern freight and high-speed passenger trains and trolleys - traverse nearly a quarter-mile of track across rustic bridges, along overhead trestles, through tunnels, and past waterfalls that cascade into flowing creeks. Also new this year, Thomas the Tank EngineTM will join the fleet of model trains, animating replicas such as the Statue of Liberty, Radio City Music Hall, Rockefeller Center, St. Patrick's Cathedral, Ellis Island, the Brooklyn Bridge, and the original Penn Station and Yankee Stadium - all created from plant parts. Tuesday-Sunday 10am-6pm; check website for complete schedule. Through January 9, 2011. $10-$25, depending on date and age. New York Botanical Garden, Bronx River Parkway (exit 7W) and Fordham Road, Bronx. 718-817-8700.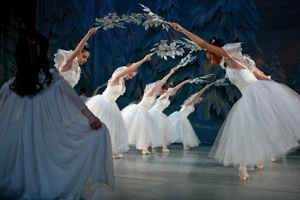 The Gift of Dance
Give a child an unforgettable holiday experience by donating tickets for the Westchester Ballet Company's production of The Nutcracker at the Westchester County Center. The Nutcracker gift program provides free tickets for disadvantaged children and individuals with special needs. Any corporation, organization, family, or individual can contribute. Gift denominations start at $50 and all donations are tax deductible. Download a donation form at www.countycenter.biz or call 914-864-7077 for more information.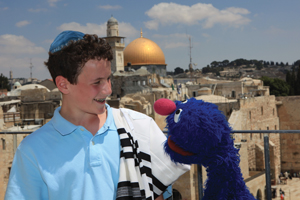 A Sesame Street Holiday
Celebrate the national launch of the new series, Shalom Sesame, at the Rosenthal JCC. Developed by the creators of Sesame Street, "Can Grover Find the Missing Menorah?" is set in Israel. Participants at the event can enjoy learning activities and a gift factory, and eat latkes and other treats. December 5 at noon. $5 advance; $8 at the door. Rosenthal JCC, 600 Bear Ridge Road, Pleasantville. 914-741-0333.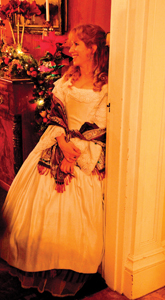 A Historical Holiday
Experience the magic of a 19th-century mansion and national landmark with Candlelight Tours at the Bartow-Pell Mansion Museum in the Bronx. Christmas trees inspired by children's holiday stories adorn rooms throughout the mansion to coincide with this year's theme, "A Story Book Christmas." Tours are led by costumed docents who will highlight 19th-century holiday traditions. Light refreshments will be served. Reservations requested. December 11 at 6pm. $10; $7 children 6-17. Bartow-Pell Mansion Museum, 895 Shore Road, Bronx. 718-885-1461.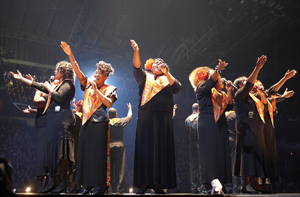 An Exuberant Holiday
See the internationally renowned Harlem Gospel Choir perform foot-stomping and hand-clapping blues, jazz, and gospel spirituals. The gospel choir has grown to be the most famous in America, traveling to international concerts to spread their message of faith through music. The choir, founded in 1986 by Allen Bailey, stems from the inspiration of Dr. Martin Luther King, Jr., and features the finest singers and musicians from Harlem's black churches and the New York tri-state area. December 11 at 8pm. $42.50-$52.50; $22.50-$27.50 children. Purchase College Performing Arts Center, 735 Anderson Hill Road, Purchase. 914-251-6200.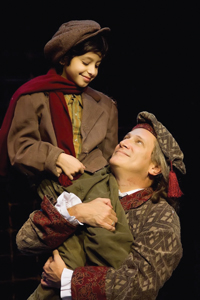 Traditional Tale
Catch A Sleepy Hollow Christmas Carol at the Westchester Broadway Theatre, through December 26. A new family musical based on the characters of Charles Dickens and Washington Irving, the tale begins in the Town of Sleepy Hollow in 1900 on Christmas Eve. Ebeneezer Scrooge is a greedy and stingy businessman who has no time for kindness, compassion, charity, or benevolence. He is visited by three ghosts who accompany him to various scenes in his life with the hope of achieving a transformation. The spirits appear in the form of Washington Irving, Rip Van Winkle, and The Headless Horseman. Find out if he'll mend his ways and change these "shadows of what may be."
Wednesdays-Sundays; times vary. All ages. $62 and up. Westchester Broadway Theatre, 1 Broadway Plaza, Elmsford. 914-592-2222.
Also see: Our complete Calendar of Events, for tons of family-friendly events in the New York metro area.