SEE OUR MOST RECENT GUIDE TO THE BEST HALLOWEEN EVENTS IN WESTCHESTER
---
We've rounded up the best Halloween events for kids and families in Westchester County, NY. Find this year's (family-friendly) frightening festivals and (sort of) spooky celebrations, all in your area.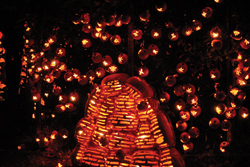 Super-Sized Jacks
Halloween tradition continues when the Hudson Valley's largest Halloween event, The Great Jack O' Lantern Blaze, returns. See more than 4,000 individually hand-carved, illuminated jack o' lanterns in an elaborate walk-through experience. Meander through an 18th-century riverside landscape and discover an elaborate display of slithering snakes, shrunken heads, a giant spider web, an undersea aquarium, super-sized dinosaurs, pirates, ghosts, plus a mammoth exhibition of mummies and a pyramid straight out of ancient Egypt - all made of jack o' lanterns. The Blaze comes together with original atmospheric music, sound effects, and professional lighting. October 2-3, 8-11 at 7pm; October 15-17, 21-24, 28-31, and November 5-7 at 6:30pm. Timed tickets must be purchased in advance. $16; $12 children 5-17; FREE children under 5. Van Cortlandt Manor, 525 South Riverside Avenue, Croton-on-Hudson. 914-631-8200. www.hudsonvalley.org.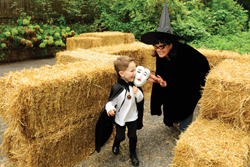 Ghosts and Goblins Galore!
Boo at the Zoo is back for another year with wildlife magic shows, musical performances by Gigi and the Lend Me A Hand Band and others, professional pumpkin carving demonstrations, a parade of costumes, the hay maze, and craft workshops. Plus, see the brand new Haunted Safari adventure that includes an augmented reality/3-D experience and the Lost Hayride that features an animated tour of Creepy Hollows. Weekends throughout October, starting at 11am. $16; $12 children 3-12 years old; FREE children under 3. The Bronx Zoo, 2300 Southern Boulevard, 718-367-1010. www.bronxzoo.com.
During Scary Scarecrow Storytime, kids can listen to scary scarecrow tales and make a scarecrow craft. October 2 at 10:30am. Then, on October 30 at 10:30am, kids can wear their costume to Halloween Storytime and listen to spooky Halloween tales. Both events are FREE. Ruth Keeler Memorial Library, 276 Titicus Road, North Salem. For more information: 914-669-5161 or www.keelerlibrary.org.
History meets Halloween at the annual Legend Celebration. Come dressed in your costume for "Mechanical Man," spooky story walks, The Legend of Sleepy Hollow shadow puppet shows, games for children, 19th-century magic shows, live music, ghost stories and other tales, plus picnic fare. October 15-16, 29-30 at 10am. $12; $6 children 5-17; FREE children under 5. Washington Irving's Sunnyside, 89 West Sunnyside Lane, Tarrytown. 914-631-8200. www.hudsonvalley.org.
Toast marshmallows and listen to Halloween tales at Cranberry Lake Preserve's Ghost Stories and Marshmallows by the Fire on October 23 at 6pm. Bring your own flashlight. Best for elementary-aged children and up. Cranberry Lake Preserve, 1609 Old Orchard Street, North White Plains. 914-428-1005. www.westchestergov.com/parks.
Enjoy live entertainment and music, crafts, stories, games, prizes pony rides, pictures, the popular corn maze, and refreshments at the 12th Annual Children's Halloween Festival. October 24 at noon. FREE. City of Mount Vernon, Grand Street between Gramatan and Fleetwood Avenues, Mount Vernon. www.fleetwoodneighbors.org.
Join in the Scarecrows and Pumpkins Parade at Greenburgh Nature Center on October 24. Participants should come in costume to enjoy cider and treats, tattoos, and more, then follow friendly scarecrows along the pumpkin trail. Starts at 1pm. Appropriate for all ages. $7 advance tickets before October 21; $9 day of. Greenburgh Nature Center, 99 Dromore Road, Scarsdale. 914-723-3470. www.greenburghnaturecenter.org.
Groove Performing Arts hosts Halloween Jams, when tots and their adults can dance the Monster Mash with their favorite Purple People Eater while the Werewolves of London howl. Reservations are suggested. October 27 at 6pm; October 30 at 11:30am. $20 first child; $10 for siblings. Groove Performing Arts, 157 Larchmont Avenue, Larchmont. 914-834-3383. www.findgroove.com.
Boofest at Lyndhurst is an interactive evening that includes barn dancing, a silly 19th-century mansion tour, a fortune teller, story telling witches, and a tour of 500 scarecrows. Reservations are required. October 29, starts at 5pm. $13; $8 children ages 3-12. Lyndhurst, 635 South Broadway, Tarrytown. 914-631-4481. www.lyndhurst.org.
White Plains comes alive at Halloween Tricks and Treats. Encounter goblins, ghosts, and witches, and enjoy music, games, magic, refreshments, and Halloween treats. October 31 at 5pm. FREE. Gillie Park, corner of Mamaroneck Avenue and Gedney Way, White Plains. 914-422-1336. www.cityofwhiteplains.com.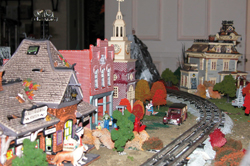 All Aboard!
The holiday comes to life in a unique way at the Halloween Train Display. See an elaborate showcase of model trains, villages, and landscapes all with a Harry Potter theme. Proceeds to benefit the conservatory project. October 16-17, 23-24, 30-31 at 11am. $5; $2 children. Lasdon Park, Arboretum & Veterans Memorial, Route 35, Somers. 914-864-7263. www.westchestergov.com/parks.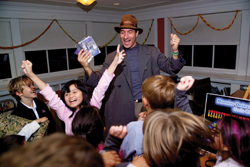 On a Mission
Go on an adventure through the White Plains Public Library, the Galleria Mall, and City Center for Monster Hunt. Track down coded clues that will help you find and capture the lurking tyrant. The program is produced by Jason Edwards, author of Will Allen and the Great Monster Detective and the sequel, Will Allen and the Ring of Terror. October 30 at 1pm. FREE. Downtown White Plains. 914-437-7628. www.monsterdetectiveagency.com.
For even more family activities and events in Westchester County, NY, visit our Online Calendar.