The Gizmo Guys will bring their brand of family-friendly comedy and juggling to the Emelin Theater's stage this March.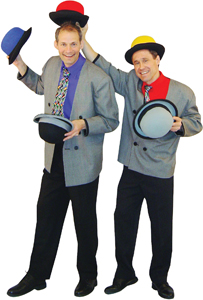 Proud to have earned the title of the "oldest continuously operating performing arts theater in Westchester County," the Emelin Theater, founded in 1972, maintains its reputation by offering shows for audiences of all ages. From comedian Judy Gold to cabaret performer Holly Cole, more than 33,000 theatergoers experience everything from international films and dance acts to folk and bluegrass concerts. In the same theater that hosted the likes of Paula Cole, Richard Goode, and Odetta, shows like Click Clack Moo and Junie B. Jones afford families the opportunity to enjoy the Emelin together.
Committed to cultivating a love of the theater from a young age, the Missoula Children's Theatre and summer theater camp puts kids in the limelight, offering them the opportunity to perform for their families and friends. The Emelin's School Outreach Program also provides more than 4,000 children in the Westchester County school system with complimentary or discounted theater tickets annually. Since its formation in 1997, the program reaches about 40 schools and introduces children to the arts by connecting the shows to various classroom topics and themes.
This month, the Emelin presents The Gizmo Guys, bringing their family-friendly comedy and juggling spectacular to the theater's center stage. Families get the opportunity to witness globe-trotting pro-jugglers Allan Jacobs and Barrett Felker in action, tossing balls, pins, and rings in the air and cracking up the audience with their knee-slapping humor. From absurd dance moves to a hat-swapping juggling sketch, the Guys offer gravity-defying, ageless amusement. Profits from shows like The Gizmo Guys benefit the one third of all programming dedicated to the Emelin's family series.


Details
What: The Gizmo Guys
Where: Emelin Theater, 153 Library Lane, Mamaroneck
When: March 13 at 11 am and 1pm
How much: $18; $13 children
For more information: 914-698-0098 or www.emelin.org



Also see: March Family Events in Westchester County, NY
Our Online Calendar, for even more family activities in Westchester and the New York metro area