Rich in History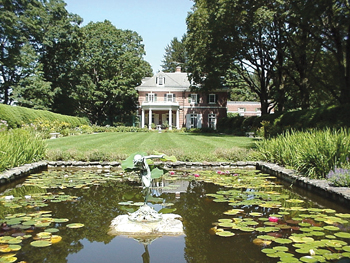 Take a curator-led tour of Merestead and learn how the mansion influenced decorating and furnishing trends across America. Nestled in the hills of Mount Kisco, Merestead is a magnificent Georgian mansion with sprawling gardens. The 130 acres of property, originally the Sloane family estate, is listed on the National Register of Historic Properties and is now a park and historic house museum.
The stately 28-room house, built in the early 20th century, was designed by architects William Adams Delano and Chester Holmes Aldrich. Though its name is Scottish for "farmland," Merestead boasts grand trimmings befitting its illustrious former owners.
In 1982, Margaret Sloane Patterson, daughter of furniture magnate William Sloane, and her husband, Dr. Robert Patterson, bequeathed the property to Westchester County. After Mrs. Patterson's death in 2000, the county took full ownership and began developing the site as an historical presence for the area.
One unique feature of the estate is its state-of-the-art artist studios, the result of a union between Merestead and nearby Copland House, once the home of composer Aaron Copland and now itself an artists' enclave. Copland House at Merestead, as the program is called, holds several concerts at the mansion during the year. It also houses short-term residencies for composers and allows for collaborations, recording sessions, and performances. The spaces, built in the farm buildings on the property, bring new life to both Merestead and the cultural landscape of Westchester County.
Details
Where: Merestead, 455 Byram Lake Road, Mount Kisco
When: A tour will be conducted to commemorate the fifth season of tours on January 9 at 1pm. Other tours will be held January 23 and 30 at 1pm
How much: January 9: FREE. January 23 and 30: $10; $5 children 13-17; $3 children 6-12; free children under 5. Reservations are required.
For more information: 914-864-7039; www.westchestergov.com/parks or www.coplandhouse.org
Also see: Our roundup of January family events in Westchester County, NY
Our Online Calendar, for even more kid-friendly activities in Westchester and the New York metro area