The Stone Barns Center for Food and Agriculture will host a wide variety of family-friendly events this fall, including a Fall on the Farm festival, a visit from "Wildman" Steve Brill, and a whole host of seasonal classes centered on sustainability and healthy, organic living.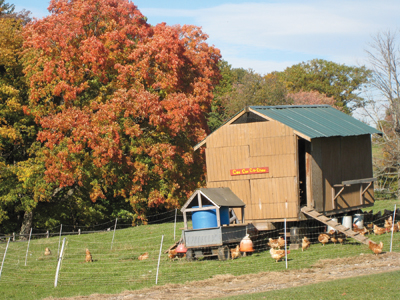 A recent movement has captured the interest of many of the nation's kitchens, classrooms, and farmer's markets - the idea that fresh and nutritious food should come from small and mid-sized community-based farms focused on sustainable development. Located in Pocantico Hills, Stone Barns Center for Food and Agriculture offers the opportunity for families to experience this movement firsthand. Visitors are encouraged to tour the farm's facilities, as well as participate in farming, gardening, and cooking programs and lectures.
Located on an 80-acre farm and open year-round, Stone Barns operates with the mission of establishing and maintaining a healthy and sustainable food system for the benefit of current and future generations. Stone Barns seeks to educate and instruct children and young adults about the true source of the foods they eat, while training them to practice restorative farming techniques, with the goal of increasing small and mid-sized farms across the nation.
In preparation for Thanksgiving, Stone Barns hosts the annual Fall on the Farm Weekend November 13-14, complete with activities and workshops for families and adults. The fun includes feeding turkeys, herding sheep, and discovering new and unique flavors for holiday dinners through special cooking classes based on Thanksgiving dishes (especially turkey).
All the Info:
Where: Stone Barns Center for Food and Agriculture, 630 Bedford Road, Pocantico Hills
When: Open Wednesday-Sunday, 10am-5pm
How much: Self-guided tours are free; tours and programs vary based on age and activity
For more information: 914-366-6200 or www.stonebarnscenter.org
Every weekend this fall, families can also participate in tours of the farm's facilities, encountering livestock, the greenhouse, planting fields, and gardens. This month,
a special tour with "Wildman" Steve Brill
provides families with the opportunity to seek out wild mushrooms and herbs. If you'd rather get more hands-on, there are also egg collecting and gardening classes, as well a series of cooking classes for a wide range of ages. All of these classes seek to bring materials directly from the earth or the farm's livestock into the kitchen. Nutritionists, herbalists, and culinary instructors assist children and adults in making a variety of dishes, from a delightful French omelet concocted from eggs hand-selected from the farm's hen house, to a
class on sauces
- dressings, vinaigrettes, and stovetop creations to spice up any meal. The true farm-to-table experience can be found in several other family classes focused on seasonal snacks,
turkey
, winter roots, and honey.
While on the farm, enjoy a treat at the Blue Hill Café to accompany your tour, or sit down for a meal at Blue Hill at Stone Barns, unique in its "no-menu" approach. The kitchen prepares distinctive feasts daily, built around the farm's freshest items of the day.
Combining a love of food with a desire to educate potential farmers of all ages on the positive impact of community-based farming, Stone Barns offers a truly exceptional experience for a day trip. It may even inspire a longer internship or apprenticeship at the farm in the future!