"Having cancer gave me membership in an elite club that I'd rather not belong to," said comedienne Gilda Radner. Before her death from ovarian cancer in 1989, Radner spoke of the value of community when learning to live with cancer, and understood the importance of having a place to unwind, with ongoing peer support in a non-hospital setting. After her death, her cancer psychotherapist, Joanna Bull, joined forces with Gene Wilder, Radner's husband, and some of their friends to create such an environment. The first Gilda's Club opened in New York City in 1995.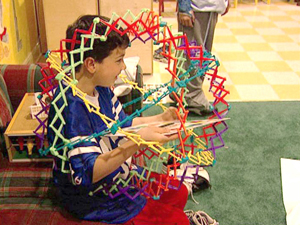 Having fun at Noogieland, the area just for kids at Gilda's Club Westchester

   The Gilda's Club mission is to give those of all ages living with any type of cancer, along with their families and their friends, an inviting place to meet and find social and emotional support. There are now 26 Gilda's Clubs nationwide and in Canada, and the number is growing. In 2001, Gilda's Club Westchester, a.k.a. "the Red Doors", opened in White Plains.

   Gilda's Club Westchester is a three-story, home-like building with many spaces to gather with family and friends or to find privacy. Members can check their email in the computer room. There is a library, a large community room, and an arts and crafts room, as well as a bathroom with a shower. The Teen Center contains movies, couches, games and books. The "It's Always Something" room is a quiet place for personal refuge. The club offers events run by mental health professionals, trained nurses and social workers, as well as classes in art, journal writing, exercise and relaxation, cooking and nutrition, and stress reduction. Social activities such as potluck suppers, seasonal parties and karaoke nights are also held.  And the warm décor is a welcome reprieve from the institutional feel of medical treatment facilities.

   "When people walk in, you can almost see them sigh with relaxation," says Donna Fishman, executive director of Gilda's Club Westchester. That's because the club is not about sadness and illness, but about celebrating life.

   Fishman points out that the far-reaching impact of cancer can be a particularly heavy burden for parents. "The illness is not a one-time thing. It involves some length and there are side-effects to treatments," she says. "As parents, we want to protect our children and not tell them certain things. When a family is touched by cancer, parents often need help talking to their kids about it." This type of help is one of the many ways Gilda's Club offers support to families. 

   "Gilda's Club is a social and emotional community for families touched by cancer," Fishman explains, stressing that not only the person with the cancer diagnosis, but everyone connected to that person needs that support.

   When cancer enters a family, members and friends feel powerless to help, and this can be both devastating and frustrating. Gilda's Club was created with the understanding that people touched by the illness can offer support to others in the same situation. "The members are just as supportive as the staff," says Fishman.

   A very special place at Gilda's Club is Noogieland, an environment designed especially for kids.  "Some aspects of Noogieland are therapeutic, to help children deal with their feelings, and some are just for play.  It's a place where children can talk about their experience without judgment, something they may be afraid to do in public," says Fishman
. 
   Noogieland is a reference to a skit on Saturday Night Live that Gilda Radner used to perform, and is open to any child who is impacted by cancer.  This includes children who have a family member or friend with cancer, as well as children who are cancer survivors. In addition to toys and art supplies, there are a variety of activities facilitated by trained and screened Gilda's Club volunteers and staff members. For example, "Kids Talk" is a playgroup for children under 13 whose parents have cancer. "Family Time" provides opportunities for families to come together around an organized social activity. "Teen Time" provides teens an opportunity to volunteer and socialize, and "Homework Helpers" on Thursday evenings was recently added. "Noogie Fest" is an annual Noogieland Halloween party.

   Families whose cancer victims succumb to the disease need not worry that their membership in Gilda's Club will be impacted. "We don't believe that when the person with the cancer diagnosis is gone, the family and friends are no longer qualified to be here," says Fishman.  "People use us in different ways based on the needs in their lives."
 
   In addition, members who complete their cancer treatments and resume their lives still stop in occasionally.  As one member put it, "Even when I'm feeling better, I still want to be connected here."

   Gilda's Clubs' services are free and open to anyone affected by cancer; no referral is necessary to join. Prospective members meet with a trained mental health professional and develop a Customized Membership Plan to serve their needs, concerns, fears and hopes. 

   Gilda's Club Westchester is located at 80 Maple Avenue. For more information, call (914) 644-8844 or visit www.GildasClubWestchester.com.