Most parents can relate to a harrowing night spent in the ER — waiting for hours with a child with a suspected broken nose, or a fever that won't subside, or ear pain that has them screaming.
   Now, Westchester parents can bring their sick or injured children to a new medical facility — just for kids — that is open till midnight, 365 days a year. 
PM Pediatrics
, in Mamaroneck, provides urgent care, with a pediatric specialist — either a pediatric emergency physician or a pediatrician with emergency department experience — always on duty.  And the staff tries to keep waiting times to a minimum — under 20 minutes is the aim, says medical director, Dr. Karin Sadow.
Dr. Karin Sadow at work. Dr. Sadow is medical director of the new PM Pediatrics.

   PM Pediatrics was created by Dr. Jeffrey Schor, previously director of Pediatric Emergency Medicine at New York Hospital Queens. He and former Amherst College roommate, Steven Katz, a management consultant and now PM Pediatrics' business manager, opened their first facility in Syosset, Long island, in 2005.  They have already served over 13,000 patients there. Over the past year, they expanded to Suffern, in Rockland County, and most recently, to Mamaroneck.  They hope to expand into Connecticut and New Jersey as well.
   At the Mamaroneck office, physicians care for their patients in a cheery Main Street, USA-themed setting.  The reception area houses video games and toys.  Each of the 10 exam rooms is decorated as a different store on Main Street and is equipped with a television.
   "For the most part, hospitals are not child-friendly places," says Dr. Sadow, formerly director of the Pediatric Emergency Department at Mt. Sinai Medical Center in Manhattan. She points out that most area hospitals do not have separate pediatric and adult emergency departments, and as a result, adult doctors, not pediatric specialists, often treat children.
   Dr. Sadow, Dr. Schor, and Dr. Wendy Graae are the three principal physicians at Mamaroneck.  All three are certified in pediatrics and pediatric emergency medicine.  All the nurses are pediatric emergency or ICU-trained. Although PM Pediatrics is not intended to treat life-threatening emergencies, they are prepared with necessary equipment if an emergency were to occur. If a patient needs to be transferred to a hospital, staffers facilitate this.
   "We see a wide spectrum of cases:  fevers, ear pain, injuries, dehydration, or respiratory distress.  We can X-ray injuries, splint fractures, and suture lacerations.  We have the ability to give IV fluids if a child is dehydrated," explains Dr. Sadow.  PM Pediatrics also provides digital X-ray, immediate lab tests, and first doses of some antibiotics.  The facility "is not a substitute for your pediatrician, however," says Dr. Sadow, explaining that they don't provide preventive care such as well-visits, physicals, or immunizations.  
  Says Dr. Peter Acker, a Westchester pediatrician, "The concept is a good one.  Just in terms of the healthcare dollar, anything that would prevent an evening ER visit is a good thing." 
   PM Pediatrics also works closely with the child's physician regarding follow-up care.  After a child is examined, a letter is faxed to their pediatrician detailing diagnosis. If digital X-rays are taken, a CD-ROM is given to the patient for their physician. PM Pediatrics will call the child's pediatrician if the patient needs care the following morning.
     PM Pediatrics PM Pediatrics is located at 620 East Boston Post Road (next to Applebee's).  Open 5pm-midnight on weekdays, and noon-midnight on weekends and holidays.  No appointments necessary.  Many insurance plans are accepted. For more information: (914) 777-KIDS (5437);
www.pmpediatrics.com.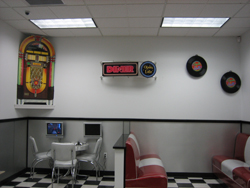 This is  not your local diner; it's the reception area at PM Pediatrics!