Check out our picks for the best way to celebrate Independence Day with your family this year in Westchester County, New York.
There are plenty of events offering history, music, and fireworks throughout the Fourth of July weekend. Many of them are free to boot. Just cross your fingers for clear skies!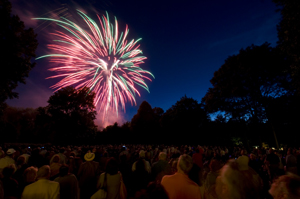 At Rye Playland, enjoy rides during the day and fireworks at night. July 2-4, 9:30pm. FREE. Playland Parkway, Rye, NY. 914-813-7010.
Caramoor has several holiday events. The American Roots Music Festival offers folk, bluegrass, blues, jazz, gospel, and country music. July 2, 12:30pm. $20-$40; children under 16 are half-price. At Pops, Patriots and Fireworks, violinist Clares Yang performs variations of Henry Vieeuxtemp's "Yankee Doodle" and other American favorites, with post-concert fireworks for ticketholders only. July 3, 8pm. $30-$60; under 16 half-price. Caramoor, 149 Girdle Ridge Road, Katonah, NY. 914-232-1252.
Come to an Old Fashioned 4th of July and celebrate with historical games and ice cream making. July 3, 1-3pm. FREE. Muscoot Farm, 51 Route 100, Katonah. 914-864-7286.
Plan to picnic at the Kensico Dam Music Fest, where you'll enjoy music and fireworks. July 3, 6pm. FREE. Kensico Dam Plaza, Bronx River Parkway, Valhalla. 914-864-7000.
The American Colonials Fife and Drum kicks off the July 4th Jamboree at John Jay Homestead, followed by a reading of the Declaration of Independence. Visitors have an opportunity to sign a copy of the Declaration, play colonial games, and view a patriotic pet parade. July 4, 11am-4pm. FREE. John Jay Homestead, 400 Jay Street, Katonah. 914-232-5651.
Also see: Our Online Calendar, for even more family activities in Westchester and the NYC area