Find fun and free or low-cost things to do with kids in and near Westchester County, NY this August, including the Peekskill Celebration, a storytelling and music festival, and a neighboring county fair.
August 3-4
Fierce Fun on the Hudson
A weekend of fun and activities for all ages awaits families at the annual Peekskill Celebration. There will be live concerts, artisan and community booths, food stands, riverboat cruises, an arts and crafts show, underground railroad tours, a nighttime boat parade, a family fun zone and kids' craft tent, plus the Jan Peek 10K Road Race and 2-Mile Fun Walk, fireworks, and exciting dragon boat races. FREE!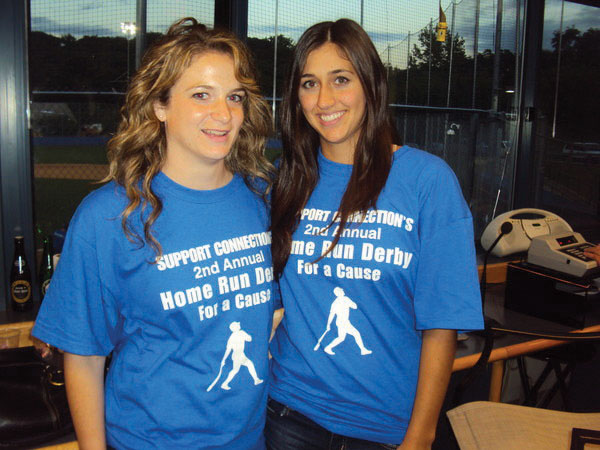 Derby organizers Kaurey Foley (left)
and Michelle DeIeso
August 4
Calling All Baseball Fans
On Aug. 4, the third annual Home Run Derby for a Cause at Peekskill Stadium will help fund Support Connection's free, confidential support services for people affected by breast and ovarian cancer. There will be music, mascots, and a concession stand, plus prizes for first and second place and T-shirts for all participants. After the derby, there will be a fireworks extravaganza show courtesy of Peekskill Celebration (see above)--shuttle buses will be provided.
Aug. 11
Tales and Tunes
Jackson Gillman, known as the "human chameleon," is one of the professional storytellers who will be featured at the 12th annual Mohegan Colony Storytelling & Music Festival in Crompond, scheduled for Aug. 11.
Aug. 12 and 26
Get Your Sea Legs Ready
Every Sunday through Oct. 28, the Science Barge on Yonkers' waterfront invites children ages 4-10 to join in hands-on Art & Science Workshops. Cross the gangplank and board the barge, a greenhouse/educational center that floats on the waters of the Hudson River, to learn about everything from growing hydroponic plants to making kaleidoscopes to the dynamics of juggling. Back by popular demand this year are Blue Crab Blitz days, when kids learn all about the crabs they catch with Science Barge director Bob Walters.
Aug. 27
Fairy Tales, Folklore, and Fables
Michael Graham's Spring Valley Puppet Theatre presents a double bill at the White Plains Public Library. The popular Aesop fable, The Wolf in Sheep's Clothing, is enlivened with a colorful Mexican setting, a humorous communication gap, and a surprise ending. The Three Wishes asks viewers to consider, "What would you do if a magical elf gave you three wishes?" FREE!
Throughout August
To Market, to Market
For many Westchester families, a trip to the farmers' market is a special occasion—children get to see, feel, and taste many items they've never encountered in a grocery store (chutneys, fresh honey, and designer pickles to name a few) and learn which foods are in season at different times of the year. Musicians, storytellers, magicians, and craftspeople get to showcase their talents, creating a strong sense of community and fun. Here are our three top choices for families this month:
Larchmont Farmers' Market: Offers cider-pressing, corn roasts, and apple tastings, among other activities. Harpist Karen Carlin will perform Aug. 25, from 10am-12pm.
Pleasantville Farmers' Market: Features a kid-oriented activity or craft each week, from tie-dyeing to yoga classes to obstacle courses and magic shows. On Aug. 4, Steve Liesman & the Mooncussers, a rock band fronted by a CNBC reporter, will perform, and the Nemecs will offer a crafty activity.
Tarrytown Farmers' Market: Held next to the Warner Public Library, this market offers fun, free art activities and entertainment. Musician Paul Mueller will be on hand Aug. 11, from 10am-12pm, to entertain shoppers.
See our complete roundup of farmers' markets in Westchester, including dates and locations.
Nearby! And Worth the Trip…
Aug. 21-26
A 160-Year Tradition
For six days each August, nearby Rhinebeck hosts the second largest county fair in New York State. The Dutchess County Fair attracts nearly half a million visitors, many of whom return year after year to see the 160-acre fairgrounds in Rhinebeck become a showplace for agriculture. A family favorite for 160 years, the fair features entertainment, farm products, demonstrations, competitions, crafts, fair foods, carnival rides, thousands of animals, and more. It's like stepping back into a simpler time and place.
For even more fun family activities in Westchester and the NYC area, search our full calendar of events!