Launched just one year ago, Girls Inc. Westchester, an affiliate of the national nonprofit that started in 1864, has made significant strides in empowering girls and young women in the community. With successful after-school programs, and special events around the county, Girls Inc. Westchester is fulfilling its mission to educate and inspire young girls to be, as its tagline suggests, "strong, smart, and bold."
Watching tweens and teens sip their lattes in Starbucks, dressed in their Seven jeans and UGG boots, one would think that most households in Westchester County are affluent. But statistics show quite the opposite, and in the current economic climate, things are likely to get worse. Currently, 20 percent of homes have annual incomes under $25,000.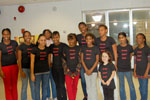 "Girls from every community have different needs," says Sally Baker, the executive director of Girls Inc. Westchester. "We want every girl to feel good about herself and know that she doesn't have to be limited by obstacles."
In 2005, more than 1,400 Westchester county women under age 20 became pregnant. Furthermore, statistics show that STD transmission is, across the board, disproportionately higher in females than in males. After conducting a needs assessment in the summer of 2006 to see if Westchester could benefit from its programs, Girls Inc. determined that girls were not participating in after-school, girls-only enrichment programs led by trained facilitators who could address their unique needs. And the programs that were in place were not targeting the growing population who were becoming sexually active younger than ever before. Policymakers agreed there was a void and knew that Girls Inc. was exactly what Westchester needed.
"Start earlier, stay later, and provide age-appropriate messages — that's the key," says Baker, who points to Girls Inc. programs that start at age 9 and continue through age 18.
Since its inception, Girls Inc. Westchester has facilitated mother-daughter workshops such as Growing Together and Money Talks, as well as programs in public schools around the county.
The Will Power/Won't Power 10-session, interactive after-school program has taught girls ages 12-14 – when peer pressure is at its strongest – how to say no to sex. "Some girls confuse aggressiveness with assertiveness; this program teaches girls the difference between the two and how to practice being assertive," says Baker. Results from a Girls Inc. national evaluation show that girls who did not participate in Will Power/Won't Power were twice as likely to initiate sex than those who participated for the entire length of the program.
For teens ages 15-18, Taking Care of Business explained how to use their values to make positive decisions, avoid pregnancy and STDs, and plot a successful career course. "They came and they brought friends, which is a great testament to what we're doing," says Pavithra Kathanadhi, the program director.
This year, Girls Inc. Westchester will be expanding its programs into more schools, looking to double the number of girls it serves. On March 28, A Man is Not a Financial Plan conference will be held at White Plains High School. Moms and their daughters will discuss the financial challenges they face, get advice, and participate in interactive workshops. A financial planner will be on hand to provide guidance, free of charge.
As the need to educate, support, and empower girls in the community grows each day, Girls Inc. Westchester hopes to continue to respond. According to Baker, "Parents are constantly asking us, 'When are you coming to my town? My daughter desperately needs this program.'"
For more information, visit www.girlsincwestchester.org.