Soccer is a sport that is universal in its appeal to boys and girls. This, of course includes kids with special needs, who more often than not are unable to play on a regular team, for a host of reasons. This spurred Armonk dad Doug Cramer into action. Thanks to his efforts, the Armonk AYSO V.I.P. ("Very Important Players") team was born two years ago — specifically geared to special needs kids.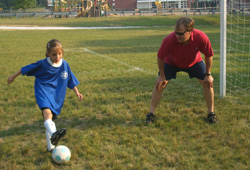 His daughter Jessica, who is now 8 and plays on the team, was a preemie, born at 24 weeks. She has experienced cognitive and developmental delays and is physically very small for her age. "I wanted to provide my child the same opportunity other kids have when it comes to sports," says Cramer. "As a father, it is heartbreaking to see when a kid can't participate."
Cramer cites Westchester's first, the Tarrytown AYSO V.I.P. league, as an inspiration for his efforts. The Armonk league boasts 16-18 players ranging in age from 4 to 8. Their handicaps range from ADHD to various physical disabilities. One key person among many from whom Cramer received advice and guidance was Brett Summers, regional commissioner of the Armonk AYSO program. "When Doug approached me to inquire whether there were any opportunities for children with special needs to play soccer, I replied that there certainly would be if he were willing to partner with our organization to create a V.I.P. program," says Summers. "The time commitment to organize this was substantial, but the end result is that it has paid handsome dividends. Our main goal for every participant in the V.I.P. league is to have fun playing soccer."
Summers notes that it is estimated that kids with special needs comprise approximately 10 percent of the school-age population. "The objective is always to mainstream the child into the general population," he says. "The V.I.P. program is no different in the context of playing soccer in a youth league. This program also uses 'buddy coaches' from Byram Hills High School to help the players on and off the field."
The team took time to gel and develop. "Toward the end of the first season, the kids 'got it'," reports Cramer. "Some parents can be overprotective because they have a fear of failure for their kids, so you have to gain their trust." The team, which plays one hour a week on Saturdays, has two coaches to handle each group, separated into boys and girls. Cramer is enthusiastic about expanding. "We are reaching out to more towns; as we'd like more girls on the team." The "buddy coaches" help keep the kids focused and their attention channeled towards the game, Cramer adds.
Team parents are singing its praises. Dani Pariser, a Rye Brook mom with an 8-year-old player, says, "Rye Brook is a smaller community that does not offer any V.I.P. programs. So, we were thrilled to have been extended the invitation to join the Armonk V.I.P. team. Our son loves to play sports, but has been unable to participate in our local recreation due to his limitations.
"The key component to this team is that the kids learn sportsmanship," she adds. "Team sports can be so intimidating and competitive for the average child, and it really becomes challenging for kids with learning and physical differences. I feel very grateful to have my son participate in this league."
Adrienne Magnemi, of Pleasantville, echoes Dani Pariser's view. Her son, also 8, is afflicted with a form of cerebral palsy known as left hemiparesis. "The left side of his body doesn't work as well as the rest of it, so his physical prowess isn't equal to that of a developing child," she says. "We became familiar with the V.I.P. team through Doug's wife because our kids attend public school together." Magnemi says that playing on the V.I.P. team has been a big confidence builder for her son. "He loves playing, and is friends with the other kids," she says. "He even recruited some extra players from school." Magnemi suggests to parents who may be reticent at first to allow their child to play to go and watch a game and at least consider letting the child try it. "You can always back out. There's nothing to lose."
Doug Cramer marvels at the positive impact the Armonk AYSO V.I.P. team has made, both on the players and their parents. "What makes this program so enjoyable is to watch the excitement in these kids' faces, as well as the sense of relief and encouragement it provides to their parents who share in this journey."
VIP leagues are a growing trend in kids' soccer. For more information on the Armonk league or on how to start such a league in your community, visit www.armonkayso.net or www.soccer.org.