Westchester County is putting into practice what conservationists preach. In an effort to make the school environment safer, a move   which also aims to teach local schoolchildren some good "green" lessons, a task force is at work on an ambitious schedule — to "green" our schools by 2010-2012.
   The people working on this project are members of an Education Committee, part of the Westchester County Global Warming Task Force (WCGWTF), a serious, action-oriented body comprised of members representing Westchester's business, government and education sectors as well as an advising committee of environmentalists. The task force was formed in October 2006 by County Executive Andy Spano. Since its inception, committees have been meeting to create greening plans and goals for their respective sectors. The Education Committee's plan involves Westchester schools, grades K-12, and county institutions of higher learning.  Their plan is being submitted to an environmental consulting company for review and will be addressed at an event scheduled to take place on October 10 at the County Center.   
   At the forefront of the Education Committee is Dr. Frances G. Wills, superintendent of the Briarcliff Manor school district. As an educator, mother of three, and grandmother of three, Dr. Wills, 64, of Ossining, has compelling reasons to support a plan that implements and teaches sound environmental policies and philosophies. She and her peers work on WCGWTF on a volunteer basis, driven by their strong sense of obligation to ensure a viable future for all. "The mission for the schools, from my perspective, is to develop a shared vision for sustainability education," she explains, "preparing our students to become responsible, ethical decision-makers and actively involved citizens who understand the concepts of environmental stewardship as a cornerstone to sustaining an equitable quality of life."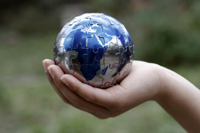 The Education Committee's action plan is based on a concept known as the three Cs — Campus, Curriculum and Community.
CAMPUS
refers to the changes needed to green the operations and grounds of the school — decreased use of pesticides; waste reduction; green purchasing; land use; clean transportation and carpooling; and the use of clean and alternative energy. Recommendations for energy plans come from the WCGWTF Energy Committee, which is chaired by the venerable environmental organization, Riverkeeper.  Lisa Rainwater, Riverkeeper's policy director, explains, "Riverkeeper's role on the Energy Committee was to organize the committee into working groups and to focus task force members on developing initiatives that would bring about the greatest reduction in greenhouse gas emissions.  Riverkeeper worked with a group of dedicated professionals who each brought to the table their expertise in energy efficiency, green energy production, green building design, and water management. Thoughtful discussions occurred and ultimately produced the recommendations the sector committees are now considering." According to Dr. Wills, while many school districts are already making a variety of operational changes to impact sustainability — notably, efficient lighting and boilers, computerized energy management, and recycling — the action plan will include additional recommendations, as well as a listing of numerous options for reducing costs and waste.   
   As the campus itself becomes green, the second C,
CURRICULUM
, will be incorporated. The new curriculum will be founded on the three principles of sustainability: healthy ecosystems, sound economy, and social equity. Children will be taught the concept of sustainability, with the hope that new generations will come to embody a view that understands its interdependence with and responsibility to the environment, the world community and future generations globally.
   At the forefront of the movement to incorporate the principles of sustainability into the school's curriculum is another Education Committee member, Katie Ginsburg. Ginsburg, the mother of two elementary school-aged children, is the founder and executive director of the Children's Environmental Literacy Foundation (CELF). She established CELF five years ago in response to what she felt was the schools' insufficient awareness and response to the global warming crisis. CELF provides both children and adults with a forum to understand what sustainability is, and why an education based on and seen through the lens of sustainability is needed now.  It also provides resources for educators to be trained in teaching sustainability.    
   The effort to put sustainability education into the curriculum is already underway. Dr. Wills has been working with Jackie Taylor, deputy superintendent in Byram Hills, and with the Putnam Northern Westchester BOCES through its Curriculum Council guided by director Marla Gardner, to begin a focused K-12 sustainability education initiative. "There are numerous Westchester/Putnam districts that participate in the Council," Dr. Wills says. "They will begin this year establishing the foundation for the curriculum, using a process that recently was successful in completing a web-based social studies course."
   Finally, the
COMMUNITY
component of the three Cs refers to the emerging role of the school as a site of information and resources for the community as a whole. According to Dr. Wills, "Community outreach addresses the need to engage the staff and faculty of schools as well as parents and residents. Districts may develop an energy policy, appoint a representative task force, hold energy fairs and forums to engage community members, and promote the vision of sustainability beyond the school campus."   
   Dr. Wills realizes that while some of the more tangible aspects of the action plan can be implemented by 2010-2012, "in reality the changing consciousness with regard to the environment will evolve over a much longer timeframe." As with all major transformations, however, it starts one step and one change at a time. "Students need to be keenly aware of the 'butterfly effect'," Dr. Wills continues. "They should become empowered to feel that they can make a difference by taking small, incremental actions in their own home, neighborhood, school — even in their own rooms."
   While some of these actions may seem small, they are the basis for long-term fundamental change. As Lisa Rainwater of Riverkeeper says: "Each action has a ripple effect that will continue to have positive impacts on our water and air quality for centuries to come."
For more info:
—Westchester County Global Warming Task Force:
www.westchestergov.com/4051_4064.htm
—Riverkeeper:
www.riverkeeper.org

—Children's Environmental Literacy Foundation:
www.celfoundation.org