Kids in Croton have been looking pretty fashionable of late, thanks to outfitting by Croton moms Andrea Andrews and Lisa Primeggia. Their shop, Groovy on Grand, is a treasure trove of unique findings for the young and fashion-forward set.

'The two moms, who met at a local playground, opened their children's clothing shop in September 2006. In their own words, Groovy on Grand carries "cool clothes for cool kids, tweens and teens." This past July, it found its way onto Westchester Magazine's 'Best' list for Best Kids' Clothes and Best Tween Clothes, two separate awards.

Its owners' motivation was simple: They were tired of driving. "Croton is a town filled with kids, and a town filled with parents who would travel to Mount Kisco, White Plains, Jefferson Valley, whenever they needed kids clothes. We thought it would be nice not to have to drive 45 minutes round-trip to get clothing," says Andrews. It took nine years of waiting for their children to be in school and looking for the perfect space in the right location before they were ready to dive in.

The idea of a kids' clothing store was not foreign to them. With Andrews' fashion experience as a designer and illustrator and Primeggia's financial background, the two balance each other well. They also job-share the operation of the shop, alternating who opens and closes each day. They overlap in the middle of the day, which is when they discuss business.

The two are committed to a fun point of view. "We do a lot of our own dyeing and embellishment," says Andrews, "plus we work hard searching for unique and high-quality clothing lines that have a fun and groovy look. We also try to carry a varied price range to satisfy the mix of customers in Croton, Cortlandt and the surrounding towns, and we always try to have some great clothing and/or accessory items for boys and girls that are in the $20 range for birthday gifts." The shop is abundant with these accessories, which include hats, fun watches, belts, jewelry sets, clocks, bags and more. And Andrews also designs and creates exclusive Groovy on Grand merchandise for the shop's branded line, which they plan to increase in 2008.

Between the two women, there are four children. Jacob, Abby and Oliver Andrews are 11, 10, and 7, and Franki Primeggia is also 11. The kids are enthusiastic about the shop and help out by unpacking merchandise when it arrives, attaching hang tags, hanging the clothes, and helping out with other jobs around the store. "Plus, they pre-wrapped the gifts in our Secret Holiday gift shop — which was an extreme help," says Andrews. "After school, our kids walk to the shop, and hang out and chat with other neighborhood kids. They also inspire us — by their suggestions and requests for new items!"

The two families actually do maintain a balance between work and family time. Says Andrews: "Since each of us is only at the shop half of the time, it allows us time to be home. Also, since the kids spend time at the shop with us, we get to work and hang out with them there — which is a lot of fun. Plus, no commute time! And if there's a school event or field trip, Lisa and I just switch off. This way we never have to miss out due to a conflict with work."

What their kids really enjoy is seeing other kids, especially their friends, in clothes from their moms' shop. "And so do Lisa and I," adds Andrews. "When popping in at school or the library, it's fun to see kids wearing clothes they got from Groovy on Grand."

The duo also enjoys chatting with shoppers. "Our customers are at the same stage of life as we are; we are all parents with young kids. So while helping a customer, we are often sharing information on where the best classes are or what fun thing we did, or what dentist we use or how we deal with homework struggles. It's a great exchange of information."

That's the nature of living in a small, tightly knit community. Groovy on Grand is connected locally and gives back in many ways through PTA donations, fundraisers for religious organizations and their booth at Croton's Summerfest.

"Community involvement keeps us close and in touch with our customers," says Andrews. "It's our way of saying thanks. And it helps us feel the pulse of our community, so we can keep growing with them, meeting their needs, and helping each other."

Groovy on Grand is located at 119 Grand Street. (914) 271-0700; [email protected] Open Tuesday-Saturday 10am-6pm, Sunday 11am-3pm, closed Mondays. Their website, www.groovyongrand.com, will be launched in February or March.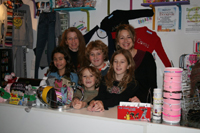 In the store, Lisa (left) and Andrea, with their kids: from left, Franki Primeggia, Oliver and Abby Andrews; Jacob Andrews is at back.