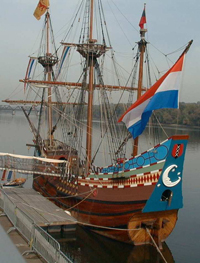 On October 16, a plank-for-plank replica of Henry Hudson's ship, the Half-Moon, sailed into the Yonkers pier to kick off the celebrations of the 400th anniversary of Hudson's journey along the river. Aboard the ship were students from the Master's School in Dobbs Ferry, who had learned about the history of Hudson's voyage, as well as the geography, astronomy, and ecology of the river. County Executive Andy Spano, Yonkers Mayor Phil Amicone, teachers, public officials, and representatives from local towns and villages greeted the students as they arrived. The Half-Moon was the first European ship to sail from the Dutch East India Company and explore the Hudson River.
The Half-Moon replica, a floating museum and classroom operated by the New Netherland Museum, was docked at the pier until October 25. The museum conducted tours and educational programs for schools throughout Westchester and was open to the public on the weekends. These programs were co-sponsored by the City of Yonkers, the Hudson River Museum, the Westchester Arts Council, the Westchester County Office of Tourism, and the Yonkers Downtown Waterfront Improvement District. Other cultural organizations, government agencies, and educational institutions are planning more events to celebrate the Hudson-Fulton-Champlain Quadricentennial in 2009.
John R. Peckham, Board president of the Westchester Arts Council, had the idea to bring the Half-Moon to Yonkers. "Being on board is like being on a time machine – seeing the world through Hudson's eyes, looking up at the stars and imagining sailing the world on the strength of the wind. It all just stirs the imagination and the senses," he said.