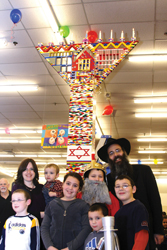 Take a look at some family and kid-friendly Hanukkah events happening in the Westchester area this holiday season!
Chanukah Concert by Kol Rinah
Enjoy joyous Chanukah music and the spirited voices of Kol Rinah, Westchester's Jewish Community Chorus. Reception to follow. December 12 at 7pm. Age: AD. FREE. Rosenthal JCC of Northern Westchester, 600 Bear Ridge Road, Pleasantville. 914-232-7281; www.kolrinahchorus.org.

Tot Shabbat
Join Rabbi Barzilai and Cantor Glover for a half-hour service of music and stories to celebrate the holiday of Chanukah. December 12 at 11am. All ages. FREE. Sinai Free Synagogue, 550 N. Columbus Avenue, Mt. Vernon. 914-664-1727; www.sinaifreesynagogue.org.
Hanukkah Puppet Show and Party with Jill Liflander
Celebrate the Festival of Lights with activities and fun. December 12 at 3pm. Age: TOD, YE. FREE. Warner Library, 121 North Broadway, Tarrytown. 914-631-7734; www.warnerlibrary.org.
Grand Lego Menorah Chanukah Party
Enjoy a Chanukah family party, featuring "the world's largest Lego menorah" to be built by all participating with Lego architect Stephen Schwartz. There will be latkes, donuts, and Chanukah fun for all ages. December 13 at 2pm. All ages. FREE. Chabad of the Rivertowns, 303 Broadway, Dobbs Ferry. 914-330-1366; www.chabadrt.org.