Judith Sheindlin is best known for her daytime television series, Judge Judy, where she presides over cases both outlandish and mundane. But when she isn't dispensing words of wisdom to those who appear before her, Judge Judy focuses on helping others in the Westchester County community.  After her daughter, Nicole Sheindlin, a Legal Aid Society attorney who resides in Larchmont, came to her with the desire to start a mentoring program for young women, Judy jumped on board — and the "
Her Honor
" mentoring program was born.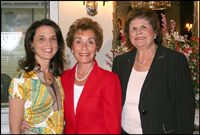 The program came about after mother and daughter began to discuss and brainstorm ways to promote self-esteem in young women.  "Both the Judge and I work at places where we continually see women who lack self-esteem," says Nicole.  "The mentoring program seemed to be a vehicle in which we could reinforce some core values in young women."  The idea became a reality when Nicole paired with the Westchester County Office for Women, an organization that works for equality and justice for all women through their public policy and advocacy, research and public education, and direct service.  The Sheindlins became so committed to the program, they set up The Honorable Judy Sheindlin Women's Research and Education Fund which provides bi-weekly stipends to the young woman involved in the program.
   Her Honor pairs motivated high school juniors and seniors from Mamaroneck High School with female leaders across the county. "Mamaroneck High School was chosen as the pilot school because it is the district in which I live and it has a wonderfully diverse student body," Nicole explains.  Guidance counselors assisted Nicole in choosing the mentees. "We discussed the parameters of the program and ways to reach students who could benefit from this particular type of experience. The counselors then reached out to potential participants and encouraged them to submit a personal essay, letters of recommendation and a student transcript." The program requirements include 25 weeks of participation, four after-school hours per week working one-on-one with the mentor, and monthly life skills workshops. "The goal of the program, both for Nicole and for the Office for Women, is to give the girls an understanding of a career they are considering in the future. This is a unique opportunity; the girls get paid for working with a mentor while they experience what it's like to work in their specific field of interest," says Camille Murphy, director of the Office for Women.  Students receive $100 per week for their participation.  
  Recognizing that adolescence can be an extremely difficult time for young women, the program places an emphasis on self-confidence and esteem.  "Self-confidence is fostered by having a skill or profession that you can rely upon to support yourself.  Given the fact that more than half of American women are in the workforce, we feel it is important for young women to find careers that are exciting and personally rewarding," says Murphy. The mentors and mentees include:  
—Carrie Amon, principal, Mamaroneck Avenue Elementary School who is paired with Jessica Fajardo. Fajardo is committed to being the first person in her family to earn a college degree.
–Karen Cheeks Lomax, executive director, My Sister's Place, who is paired with Sheirin Torres, a native of Colombia.
—Jean LePere, senior director, Cancer Control, American Cancer Society who is paired with Christina Melo, whose mother serves in the U.S. Air Force Reserves.
—Ann Marie Terrone, director, KEEPS Program, who is paired with Raquel Castro, a young woman who is considered a leader amongst her peers.
—Maria Valente, owner of Chocolations, who is paired with Christina DaRocha, a native of Namibia.
•    Jeanne Muchnick, senior editor,
InTown
magazine, who is paired with Sheri Aronowitz, a musician with a strong interest in the arts.
•    Mariana Boneo, president, Hispanic Resource Center, who is paired with Kemberly Martinez, first generation American of Colombian descent.
•    Honorable Dolores Battalia and Honorable Jean Maria Brescia, judges, who are paired with Sereena Karsou, an international student.  
  "To have these young women in a mentoring program allows for bonding with an adult who can help them learn about a career, and help them make decisions concerning their future goals and schooling,' says Murphy. For Nicole, her mother was her mentor and now they both want to give back. "Watching a strong woman like Judy raise a family and go to work really impacted me.  We both want to encourage young women to pursue a profession that they find enjoyable. The goal of the program is to help these girls become confident, strong and independent women."  
  For further information on the program, go to
www.herhonor.org
.
Photo: Courtesy, Westchester Gov/Office for Women