The new Household Materials Recovery Center, or H-MRF, opened its doors in Valhalla, NY as a place for Westchester County residents to dispose of household chemicals and electronic waste.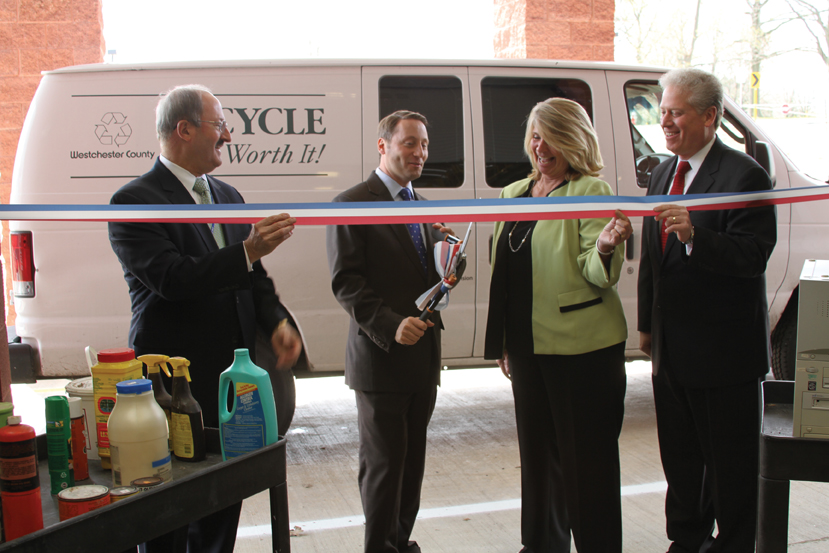 On April 12, Westchester County Executive Robert P. Astorino led the ribbon-cutting ceremony that opened the new state-of-the-art Household Materials Recovery Facility (H-MRF) at 15 Woods Road in Valhalla, NY. Located on the Grasslands Reservation, the new center will help Westchester residents continue to be leaders in recycling—our county clocked in with a 52 percent recycling rate in 2011, compared to a national average of only 35 percent—by providing a year-round site to bring things like household chemicals and electronic waste.
"Recycling and other activities designed to eliminate waste are not only good for the environment, but save us money," Astorino said. "With this new facility…we are making disposal of hard-to-get-rid-of household items even more convenient."
These items include hazardous chemicals (like pesticides, flammable liquids, and pool chemicals), cleaning products, tires, re-chargeable batteries, Freon-containing items, appliances, electronic waste, expired medications, and propane tanks (the leftover propane will be used to heat the center). The H-MRF also offers shredding services.
Residents should continue to put out their ordinary recyclables, including papers, bottles, and cans, on the regular recycling days established by their local municipality or carter.
The H-MRF is open every Tuesday, Thursday, and Saturday, by appointment only, to all county residents. Those in the seven municipalities that do not belong to the county's Refuse Disposal District (Bedford, Lewisboro, New Castle, North Castle, North Salem, Pound Ridge, and Somers) will be charged a small per-pound or per-unit fee. For more information or to schedule an appointment, call 914-813-5425 or visit westchestergov.com/hmrf.