For kids, back talk is often a developmentally normal method of asserting independence from parents. We asked the experts on child discipline in Westchester County, NY, to offer advice on how parents can discourage this bad behavior.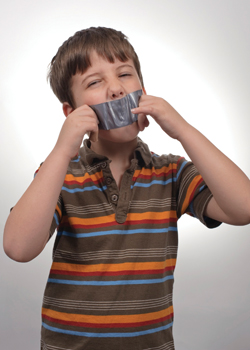 "Nooooooooo!!!"
"You just don't understand."
"It's NOT fair!" (Pout.)
(Sneer.) "What's the big deal?"
If you've got a child in your home older than, well, one, you've heard it, too: Back talk, persistent and strong, is a standard rite of passage. And depending upon a child's age, it's often characteristic of a developmental milestone - it signifies a child trying to exercise more control over his or her own life, and to designate clear boundaries, assert independence.
But no matter how many times you read about the "why's" for the bad behavior, you surely still need help with how to handle it. As Marina Doulova, a Queens psychiatrist, indicates, "If this is a new behavior, it is essential to determine the triggers for these behavioral changes." That will often inform how to deal with the behavior.
For some general direction, we asked local experts to answer:
What advice or words of wisdom can you offer a parent who is dealing with a child who back talks?
"Naturally, it can be frustrating for a parent or any adult who is working with children to be confronted by a back-talking child. We teach our staff that staying calm, being consistent, clearly outlining expectations, role-modeling (which includes vocabulary and the non-verbal body and facial expressions that go along with the words), and looking for the opportunities to praise the child when they have participated in an appropriate and positive communication are some major keys to managing a child who back talks.
Choosing extracurricular programs, sports teams, and summer camp opportunities rich with adults who are positive role models and continue to promote your family values provides an extended 'parental' support system. Do your best while picking these parenting partners, making sure they mirror the things you are trying to teach at home.
A trap for many adults is to laugh or let inappropriate things go when they are funny. It is never helpful, and most times very confusing for children when adults are inconsistent in how they deal with behavioral expectations. In addition, when children watch us be disrespectful to toll booth attendants, wait staff, or anyone, for that matter, it sends the message that there is a time that back talking or rude behavior is acceptable.
Yes, working with children can be frustrating; but the rewards for staying in the fight and raising well-rounded youth are well worth it. My best advice is to hold the line with your children."
-Jamie Sirkin, LCSW, director, Summer Trails Day Camp, Somers, NY
"There are different behavioral techniques applied to children according to their age groups. Younger children 2-5 years old can be managed simply by setting limits. It is important not to respond back. Be a role model for your child by staying in control of your own emotions. Give a warning prior to punishment (in the form of time outs) if behavior continues.
For children 5-12, initially try to point out the negative behaviors to the child. A reward or punishment system can be implemented for specific behaviors to improve outcomes. If a child uses curse words, label the word(s) as inappropriate, and then provide examples of how to express the feeling by using appropriate words instead. Do not forget to evaluate your own and other family members' behaviors at home as well as other contributory factors.
Children older than 12-13 years of age can be managed by providing specific time for complaints and requests. Use negotiation techniques if it is possible."
-Dr. Marina Doulova, ABC Psychiatric Services, Forest Hills, NY