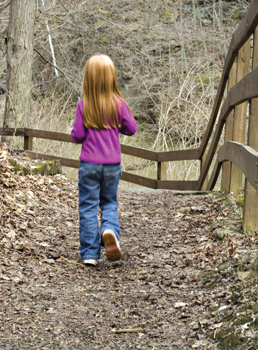 "If only I could bubble-wrap my child!" It's a nice thought, especially for parents of toddlers who bump and run all day long, or for those with older daredevils on their hands. And how about our shy guys and girls, the ones we as parents just want to wrap up in protective hugs, to reassure often? Deep down we all know that the only way our kids will grow into their own is by exploring the world, but that doesn't mean doing so is always easy. How - and when, and how much - should we let go?
"If you are brave enough to know your children for who they are as individuals, then you'll know what situations you can trust them with and which situations you should be a little more careful entrusting them with," advises Sue Lee, principal of CCB School of Douglaston in Queens. "Letting your loved ones go is probably one of the hardest things in the world to accomplish," she adds.
To help you along the way, we asked local experts:
How can I avoid being overprotective of my child?
"Children learn best by playing and exploring without being told what to do and how to do it every step of the way. The best childhood lessons are learned from falling down, trying and not succeeding immediately. When parents are constantly correcting and jumping in, they are sending a strong message that the child is not capable, that others cannot be trusted, and that the world is a frightening place. Children need to learn to negotiate on their own, and to solve problems with the help of others-including their peers and teachers, not always the parents.
Parents should encourage children to engage in activities they may not necessarily be good at right away, to enjoy the process and the learning. In order for children to grow, they must fall down, make mistakes, have defeats, and have confidence in their own ability to 'get back on their feet.'"
-Jodi Levine, owner, Jodi's Gym, Mt. Kisco
"Parents need to allow their children to explore their innate talents. We encourage children to make their own choices for their camp day with their parents' advice, so they participate in courses they want to explore. This allows the children to have new experiences that they normally would not be exposed to. It also allows for growth and discovery that, with guidance, can be a wonderful and exciting time for a child. If they are allowed to make some decisions for themselves and see the outcomes, good or bad, then they will learn from those choices. Testing the waters and making decisions is all part of the fun of growing up, and we as parents can foster that growth by allowing children some freedom in making those decisions."
-Matt Davanzo, director, Squire Day Camps, Sleepy Hollow
Also see: More advice from New York metro area experts for overprotective parents
Our Ask the Experts section, for even more practical parenting advice