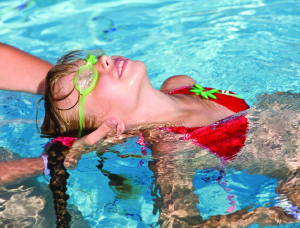 An estimated five to 10 million infants and preschoolers participate in formal aquatic instruction programs throughout the United States. Programs for the littlest water bugs focus on getting them comfortable in the water as well as helping parents become aware of basic safety measures (for instance, whenever infants or toddlers are in or around water, an adult should be within arm's reach, providing "touch supervision"). But when your child hits the age of four, he is developmentally ready to undergo formal swimming lessons. And every child should learn how to swim to reduce the risk of drowning.
"The best approach is to make everything about water fun and positive," says Caroline Kaczor, aquatics and health director at Sportime NY. "Take baby steps," she suggests. "At bath time, start small by getting your child to pour cups of water on his or her head. Let your child lead the operation depending on her comfort level."
But what if your son or daughter isn't so eager to get wet? Whether due to fear of the water or a simple aversion to feeling cold, some youngsters just don't want to get in the pool to learn. Remember that, as Kaczor reiterates, "It's best not to force anything if the child is fearful." But there are always measures parents can take to ease their child's transition from non-swimmer to willing participant. To help you, we asked local experts - including Red Cross water safety instructors and local aquatics directors - for their advice.
Ask the Experts:
How can I encourage my child to learn how to swim if she is completely uninterested or afraid?
"The key factor in teaching a child who is fearful of the water to learn to swim is to win the child's trust. At JCC Camp Discovery, we start slowly, sitting on the edge of the pool and dipping our toes in, kicking or splashing for the first few days. We tell the child that we will never make them do something they are not comfortable doing, and we honor that promise. It's a gradual transition that should not be rushed.
For younger children, music works beautifully. Sing their favorite songs while they learn to kick or walk hand-over-hand along the side of the wall. For older children, playing games helps, as does reasoning with them. Tell children that they wouldn't want to become a mommy or daddy without knowing how to swim. Ask children what bothers them about the water, and what you as a parent and teacher can do to make them feel more comfortable. We strongly advise that a trained professional teaches your child how to swim, as appropriate techniques are sure to be used. Parents should play a key role in getting a child comfortable and prepared for the endeavor, and help them weather any setbacks.
It's also extremely important to let children know the rules about water safety. Every child can and should learn how to swim!"
-Linda Cindrich, American Red Cross water safety instructor (W.S.I.) and aquatics director at JCC Camp Discovery, Rosenthal JCC of Northern Westchester
"Establish pool safety rules such as: only enter the pool if an adult is watching; and, no running around the pool area. Don't focus on what can happen if the rules are broken, but be clear that the rules must be followed.
Trust is extremely important. If you say that you'll be there to catch your child, show him continually that you will catch him when he says he needs you. Show your child how much fun you have while swimming in the pool as he watches from the side. This may make him want to join you.
Most of the children I've worked with who were fearful or uncomfortable about swimming began to enjoy the pool experience while sitting on the first couple of steps. Let children play with underwater dive toys in the shallow water from the safety of the steps, where they feel comfortable and in control of the situation. When you're little, that pool can look extremely daunting! Practice kicking, putting her face in the water (even if it's just a little bit at a time) and reaching underwater for toys. The more at ease the child is near the water, the more likely she will have the desire to learn how to swim."
-Caroline Kaczor, aquatics and health director, Sportime NY, with locations in Mamaroneck, Manhattan, and throughout Long Island
"It is important to make a child feel as secure as possible. Instructors here use tot docks (underwater platforms that reduce water depth and provide railings for kids to hold onto) so that children who are fearful about not being able to touch the bottom have solid footing. In personal pools, you can do something comparable by having your child remain in the lowest end of the pool, or just along the steps. If they feel too insecure, then allowing them to participate in a more formal instruction setting is optimal.
Like our instructors, parents can also use rubber ducks and floating toys to help explain the concept of floating. This helps keep the lesson fun for the child, which is so important when teaching any new skills."
-John O'Brien, sports director overseeing aquatics, JCC of Mid-Westchester, Scarsdale
Also see more advice from experts in your area.