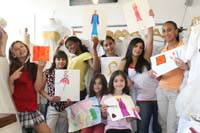 In 2000, when fashion designer and educator Denise Proctor opened the doors to her Westchester Fashion Academy for Children (WFAC), it was the realization of a dream. For over 20 years of working in the fashion industry, Proctor had the desire to offer fashion education to interested children of all ages. "I've always felt there was a need for young children to experience the fashion arena, especially while their unhampered creative minds can explore limitless possibilities," she says.
Proctor, a native of Westchester and a graduate of the Fashion Institute of Technology (F.I.T.), has taught Fashion Sketching and Design at Parsons School of Design, Pratt Institute, Pelham Art Center, and her alma mater, F.I.T. In addition, Proctor owns and operates Denise Proctor Couture Gowns, a design company that designs and manufactures bridal, evening, Bat Mitzvah, and prom gowns for stores and private clients.
In WFAC's early days, Proctor conducted classes in her home, on weekends, for ages 9-15. This arrangement worked well, since her son, Cheikh, was still young. Today, the classes have grown to include ages 6-17, and the Academy has a new home, in the Westchester Arts Council's building in White Plains.
Like the academy, Cheikh has also grown. Now 12 and a drummer, he helps out his mom by answering phones, acting as staff photographer for student fashion shows, and providing music for fashion shows. As a single parent, Proctor has included her son in her business as a necessity at times, but also to broaden his experience. By watching her, Cheikh has been exposed to all aspects of running a business. And he has learned that there is always a way to overcome obstacles, to negotiate, and most importantly, "to have a Plan B," Proctor says.
Cheikh has been Proctor's motivation, she says. By being successful, she is able to provide a good life for him. Now that he is older, while Proctor is with her students, Cheikh enjoys spending time with the other artists at the Westchester Arts Council. Proctor feels this is a terrific way to nurture her son's already artistic spirit.
The classes Proctor teaches at WFAC use some of the same concepts and methods as those she has taught at F.I.T. and Parsons. Through various sketching techniques, the children begin learning the basic language of fashion, including the "croqoi" (which is the fashion figure), the hands, feet, hair, and face with the different skin tones. To integrate a global perspective, Proctor offers "The Designer's Journey," where students explore other cultures by way of music, pictures and color. In Kenya, for instance, they find the vibrant colors of the intricate beading by the Maasai tribe. The students create "trend boards" for their design ideas, and study different categories of fashion, including casual wear, sportswear, eveningwear, and gowns.
Proctor tries to give her students a well-rounded fashion education that is age-appropriate. She takes her younger designers to a local dollar store, and gives each five dollars to select items to embellish a fleece poncho. They spend the next several weeks painting, appliquéing, and embellishing their ponchos, and display their creations in a fashion show. Last year, some of her older students worked on "Fashion for the Green," refurbishing old clothes into new designs.
Through a partnership with the Barnes & Noble bookstore in White Plains, WFAC students are encouraged to discover the joy of reading through design-oriented books, such as Different Like CoCo by Elizabeth Matthews. Proctor takes them on field trips, to places such as Kenneth Cole's showroom. They also have had guest speakers; Jene Luciani, fashion editor of Westchester WAG, has spoken to the students about the field of fashion journalism.
Proctor is excited about the future of the Westchester Fashion Academy for Children, and about her new venture. Next month, the New York Fashion Academy for Children will open in Manhattan, at Madison Avenue and 32nd Street.
"I believe in surrounding children with an environment of inspiration, motivation, and the belief that they can do anything!" Proctor says.
Westchester Fashion Academy for Children is located at 31 Mamaroneck Avenue, Suite 810, White Plains. 914-428-1047; www.wfac4children.com.
LAUREN RUSH is a freelance writer and editor living in Westchester with her husband and four children. She has written articles on health, education, parenting, and business for various magazines.