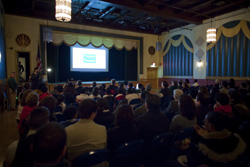 Videos of the Future
When asked what their lives would be like and what kind of world they would be living in in the year 2020, more than 60 teenagers responded by making their own film. On December 10, they had their chance to show off their work. Nokia and the Pearson Foundation, sponsors of the Mobile Learning Institute, joined with Westchester County students to host the Envision 2020 Celebration 2008 at the Westchester County Center in White Plains. The event showcased the digital films the students made during the summer of 2008. Using Nokia N95 cell phones, students shot video scenes, and learned how to use the latest in digital technology and software to create digital stories. The Mobile Learning Institute provides a summer learning experience that supports schoolwork and programs taught in the classroom, allowing students and teachers to create digital presentations about their understanding of classroom objectives. For more information, visit www.mobilelearninginstitute.org.


Celebrating 40 Years
Over 200 people attended the 40th anniversary celebration of the Clear View School in Briarcliff Manor on November 8. The benefit dinner and auction, held in a ballroom-like setting in the school's gymnasium, raised over $190,000, including almost $50,000 during the art auction. The funds will be used mainly for the restoration of the school's two classroom buildings. Celebrity guests in attendance included Tyne Daly, Francesca James, and Marian Seldes. Julie Harris, who has served as honorary chairperson for the school's Board of Directors since the early 1970s, and William T. Barnes, Clear View's executive director since 1968, were both honored during the evening. The Clear View School provides children and families challenged by mental illness a special environment in which to grow, learn, and master their difficulties. Currently the school serves the needs of nearly 120 emotionally troubled children from communities in Westchester and Rockland counties. For more information, visit www.clearviewschool.org.