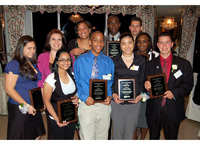 Countywide Kudos
Ten Westchester high school seniors received the Westchester County Youth Board's Youth Recognition Award at a dinner on October 22. The students showed exceptional commitment to their local communities, volunteering for school, church and neighborhood organizations. The Class of 2009 honorees included Sonia Davis of Fox Lane High School, Jasmin Gonzalez of Sleepy High School, Kamaal Jones of Woodlands High School, Melody Aguilar Niere of Saunders Trades and Technical High School, Glenesia Roberts of Peekskill High School, Samantha Rodriguez of Yorktown High School, Jeffrey Vargas of Salesian High School, Christopher Watts of White Plains High School, Maryann William of Yonkers High School, and Nathaniel Williams of Yonkers High School.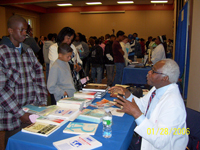 Future MDs
African-American and Hispanic students were encouraged to reach for the stars at Rx for Success: Dare to be a Doctor. The conference, on October 18, drew over 500 middle and high schoolers to the County Center in White Plains. The first time event began with a motivational speech by "The Three Doctors" – Drs. Sampson Davis, Rameck Hunt and George Jenkins — black doctors who grew up in single-parent homes in Newark and made a pact to become doctors. Kids then attended workshops led by local black and Hispanic doctors where they could learn more about medical careers. There was also information on volunteer and internship opportunities and financial aid.
Although the event quickly filled to capacity, other students were able to participate in a live interactive webcast. Rx for Success was sponsored by Westchester Medical Center, Hudson Health Plan, Affinity Health Plan, Sound Shore Medical Center, Lower Hudson Valley Perinatal Network, Phelps Memorial Hospital Center, and United Way of Westchester and Putnam.