Perhaps your winter exercising efforts will be so successful that your kids will ask for a gym membership!  Or your own well-intentioned attempts at winter exercise will inspire your kids to actually get to the gym.  But how does a parent ensure that kids will enjoy a structured workout environment enough to stick with it?

   Marla Past is an expert on this subject on several counts. She is a Bronxville mom — she has two daughters, ages 10 and 14.  A few months ago, she opened a gym in Scarsdale, Underground Fitness, which is just for pre-teens and teens.  And she comes to the fitness business from her own experience growing up; Past went from childhood obesity to teen bulimia and now is a healthy, fit adult whose passion is nutrition and exercise.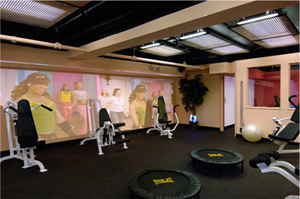 If you'd like to see in your kids the kinds of transformations Past sees daily in her young clients (she proudly uses as an example the young man who arrived at the gym, huffing and puffing up the stairs and now does 150 jump ropes in a row), she offers this advice: "You have to make sure the exercise facility is cool — otherwise you run the risk of the dynamic where the child will say, 'My mom told me to do this, so I'm not going to do it. It also helps if your child can exercise with a friend.  And then you need someone in the mix who is the leader, so kids will stay on course with the program."

   Underground Fitness clients range in age from 10-18.  When Past created the gym, she kept in mind the success of the nightclub she owns in the city, Absolutely 4th martini bar.  "What sold that place to customers was the décor," she says. "The place is cool! That's what drives them in." 

   At the gym, the idea was to make the environment appealing to young people so they'd want to stay.  The 5,000-square foot space includes ski movies projected off the walls, Tour de France projected images during spinning classes, flashing lights, a real boxing ring, combo exercise/Playstation bikes, and hydraulic circuit equipment that enables young exercisers to do weights with air pressure.  "The idea," says Past, "is that there's lots to try — but they've got to keep moving."

   Much of the battle, Past believes, is having an aim.  "You need a beginning, to get to a middle, and then to arrive at accomplishment," she says.  "With an aim, you have something to measure." 

   She sits down with each new client and asks them what they're feeling.  "Girls will say they want to get into shape well before bathing suit season. Boys will say, 'My belly feels like dough. I'm feeling too sluggish.'  I encourage them to talk about how they're feeling, because it's important to be able to say out loud: 'I'm not comfortable in my skin. I want to change.'"

   To get your kids to take action, Past advises parents to focus on health and strength aspects, and not to harp on weight.  To motivate kids to change habits takes a careful approach.  "I think a lot of parents don't take their overweight kids seriously," says Past. "They'll say, 'Oh, it's just a stage she's going through.' Or, at the other end of the spectrum, they'll say: 'My daughter is 10 pounds overweight; she's obese.'  I do think parents need to look at their own relationships to food and exercise and their bodies before they start the discussion with their kids.  Health and fitness is too important a subject to mess up."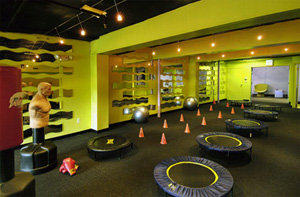 Which is why she talks to her young clients about nutrition as well as exercising; Past was a professional chef and is also a nutritional consultant who studied with Dr. Sears of The Zone.

   "I show them how to have a slice of pizza and make it healthy," says Past.  Did she say  healthy pizza? "Sure! You just put some chicken on it!  Or if they're going to a party — where there's never healthy food, right? — I tell them, make sure you have some protein before you leave — some cheese and a piece of fruit, for example. Then you won't be so hungry when you get there.  Or, if they get stuck, and they have to eat something that's all carbs, I urge them to make their next meal a healthy, balanced one."

   Underground Fitness is located at 140 Garth Rd. in Scarsdale. Go to www.undergroundfitness.net for more info.