On the morning of May 22, 29 local athletes prepared to put their skills to the test and compete for hometown honor, gold medals, and bragging rights. By the end of the day, they would claim more than 20 medals in various events. The athletes were just 10-12 years old and hailed from Scarsdale, White Plains, Rye, Harrison, Yonkers, New Rochelle, Larchmont, and Ossining. They competed in the 2011 Mid-Atlantic JCC Junior Maccabi Games, representing the JCC of Mid-Westchester against 10 other east coast JCCs.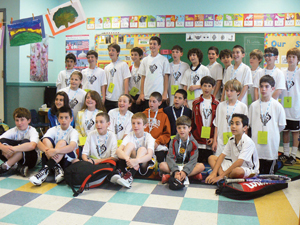 After marching into opening ceremonies amid a cheering crowd at the Katz JCC in Cherry Hill, New Jersey, these young athletes participated in basketball, soccer, swimming, tennis, and table tennis. The Mid-Westchester delegation won the gold medal in boys' soccer and the silver medal in boys' basketball, plus a total of 14 medals in swimming, two tennis medals, and three table tennis medals.
The JCC Junior Maccabi Games are modeled after the JCC Maccabi Games for teens ages 13-16, a week-long Olympic-style sporting event that offers athletic competition and promotes community involvement, teamwork, and pride in being Jewish. The JCC games are in turn inspired by the World Maccabiah Games, an international Jewish athletic event held in Israel every four years. Maccabi, a Hebrew word, is synonymous with courage, success, and victory.