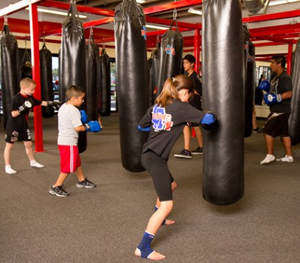 LA Boxing, a boxing, kickboxing, and mixed martial arts gym in Mamaroneck, will begin offering boxing classes for kids this month.
Beginning May 2, the gym will host boxing classes for children ages 6-12. The program is derived from the gym's boxing conditioning and training program, which focuses on building physical skill along with focus and concentration, says manager James Mitchell. Kids work with the gym's physical trainers, all of whom are boxers, in a program tailored to their age level. "The goal is not for kids to become fighters, but to teach them the basic techniques of boxing in a fun atmosphere that lets them release energy while working on their concentration and discipline," Mitchell says. "These are skills that translate into everything else in their life."
Kids' boxing classes will be offered two to three days a week in three-month, six-month, and one-year programs.
LA Boxing is located at 300 Waverly Avenue in Mamaroneck, NY.
Also see: Our After School Activities Guide for families in Westchester and the New York metro area