Plaster Palace, a paint-your-own pottery studio, offers a variety of ceramic pieces to paint, perfect for a family activity. The birthday party location in Larchmont also offers a parents' night out and an art therapy program for children with autism.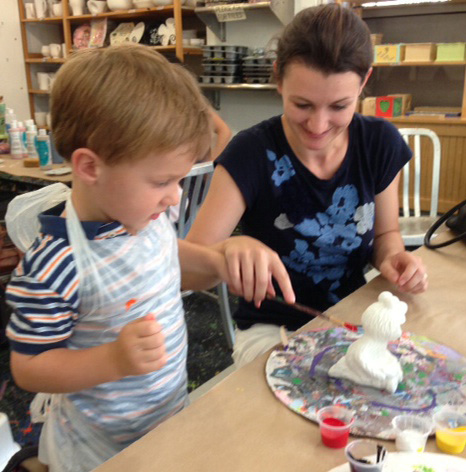 Owner Emilia Grabowski paints a ceramic "Sesame Street" character with her son.
A new pottery studio opened in Larchmont and offers ceramics ranging from functional to fun. Plaster Palace allows kids to come in any time and work on ceramics, or plaster for younger kids as it can be taken home right when they are finished painting. The studio carries ceramic piggy banks, plates, trays, and mugs among others, including holiday themed pieces.
"Before opening the studio I had always looked for classes to bring my son to, and I really wanted to find a place for parents to bond with their kids without a time limit," says owner Emilia Grabowski. "Our studio is very relaxing because you can walk right in and work until you're finished."
The studio always takes walk-ins, but also offers a range of classes for children, as well as story time. Birthday parties are also offered, with packages including dancing, face painting, and, of course, a great variety of pottery to paint.
Plaster Palace offers a variety of different events, including an autism therapy class, run by employees and assisted by a professional who holds a degree in art therapy. In addition to their child-friendly classes, the studio welcomes parents to bring a bottle of wine to their happy hour every Thursday night, which includes a special guest speaker every other week.