While removing vending machines from schools, measuring and reporting children's body mass index (BMI) to parents, and eliminating junk food from cafeterias are well-intentioned steps on the road to helping kids make healthier choices, there is one local early childhood education program that is taking a proactive approach among their youngest students. For the past four years, the Mount Kisco Day Care Center (MKDCC) has collaborated with the Edible Education Project (EEP) to create a developmentally appropriate food and nutrition program for children 18 months through 12 years of age, aiming to teach children the connection between healthy foods and seed-to-table preparation.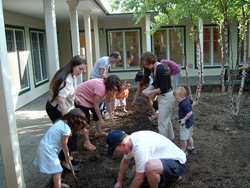 All age groups pitch in  doing community gardening in Mt. Kisco
—————————————————————————————

   Developed by Deberah Sutter of the Flying Pig Restaurant, EEP is a pilot community project created through the restaurant's Edible Education Initiative. The education begins in the toddlers' classrooms with visits from chefs and farmers. Food is grown on site, in vegetable gardens that are planned, planted and cared for by the children and staff, along with seniors from My Second Home, an adult daycare program located in the same building. This gives youngsters the experience of what it would be like to work on a real farm and teaches them the value of sustainable agriculture.
   Although MKDCC is a childcare center, the EEP is not just for preschoolers; the program also benefits older children through after-school programs. Garden planning allows older children to create grids, perform calculations, and set up the garden beds for the younger children to plant.
"They're also being scientists in the growing process," says Dottie Jordan, the Center's executive director. "When things don't grow or harvest as planned, the children will sit down to figure out why and what they can do differently next time."
   The older children take part in the harvest as well. Once picked, the harvested food is brought to the kitchen and served as part of the daily menu, supplemented by produce and meat from local farms. During the summer, the group hosts a farmers' market where they sell harvested produce to parents and community members, with proceeds going to the charity of the children's choice.
   Much of the menu planning revolves around the harvest. The children participate in cooking classes to learn about healthy meal preparation. "The children in my toddler class love the Edible Education Program — so much so that they actually have asked to leave the playground to go and cook," says Tami Albanese, a teacher/supervisor at MKDCC. "We have a fun fact sheet about foods and your body, and whenever we cook something, the children want to know in what way the foods support their bodies. I am constantly amazed at how much they know and how open they have become to trying new foods — even our picky eaters — through our food program."
   Encouraging the family dinner is a trend that's been growing over the past decade, and teaching families how to make sure it happens in their own homes is another of the program's goals. "The government is focusing on obesity and working with schools on wellness, so there's more awareness," says Jordan. "Now we need to make it more practical, like teaching families how to make food in advance, which helps reduce their food preparation time." To that end, there are quarterly EEP dinners in the evening, incorporating the children, their families and the seniors to help educate, raise awareness, and reinforce the principles being taught to the children of the Center, and to reach out into the community.
   The project strives to increase the level of appreciation for healthy food choices by combining nutritionists and farmers with farm fresh food and gardening practices. With on-site gardening, and cooking and nutrition classes integrated into its food program, MKDCC could serve as a model nutrition project for other communities and schools.
   "We are getting children ready to demand better foods when they get to (public) school," explains Jordan. "We have seen the eating habits of children change over the years. When the program started in 2002, school age kids were tough; they wouldn't touch 90 percent of the food in the program. Now, four years later, kids who started here at age 2 are now 6 years old, and they are becoming better role models for the other children." 
   Incorporating a fitness program to complement the food/nutrition piece is on the horizon. "One of the bi-products of the EEP is looking at the whole child, and what happens as you grow," explains Jordan.  "Moving your body is as important as food choices. Part of childhood is being active, so it's a natural piece to add to the program."
   Parents of the children in the program have noticed a change. "The ramifications of the Edible Education Project are evident in my son's increased interest in gardening and in his eating behavior," says Sarah Fashena of Mt. Kisco. "My son now eats salad greens by the bowlful and shows a much greater willingness to try new vegetables and fruits."
   Why the change? "When they're cooking, creating and understanding all the plusses," says Jordan, "they really get it."
   The center is always looking for volunteers to help with the gardening program. For more information, contact MKDCC at (914) 241-2135 or visit
www.mkdcc.org. 
Young and Old Benefiting Each Other
   The Intergenerational Community of Mount Kisco is a collaboration between Mount Kisco Day Care Center and My Second Home, an adult day services program sponsored by Family Service of Westchester. While Westchester County has several intergenerational programs, this one is the first to build a shared site facility that brings seniors and children together throughout the day. Designed with the best for both generations in mind, the site includes a designated space for seniors, classrooms for each age group in the childcare side, a separate section for after-school programs, shared space for interaction, a toddler gallery for intergenerational activities, and a residential kitchen for cooking projects.
   As the name implies, the children and seniors share parts of their day through coordinator-created programs.  Music/movement, arts/crafts, cooking, bowling, balloon volley ball, gardening and sharing books and stories are just some of the ways the generations experience life together.  These activities can be structured or spontaneous events, so that the elders enjoy the spirit and companionship of the children, while the youngsters benefit from the life experiences and nurturing manner of the senior adults.
   Research shows that close intergenerational bonds produce better grades and higher self-esteem in children, and can lead to a longer, healthier life for older adults.  At the Intergenerational Community of Mount Kisco, children are able to form one-on-one relationships with seniors whom they see regularly.  In an age where an adult's time with a child is constantly dwindling due to work and other obligations, such relationships are precious.
   To contact the Mount Kisco Day Care Center, call (914) 241-2135 or visit www.mkdcc.org. To reach My Second Home, call (914) 241-0770 or visit www.mysecondhome.org.