October 17 marked the start of construction on Legoland in Westchester, an exciting new entertainment, educational center, and party place for kids and families that will house more than three million Lego bricks.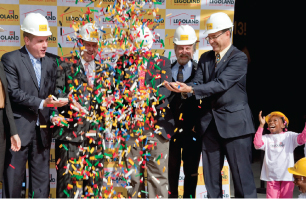 Five year-old Anari Davis (far right) of Yonkers cheers as Lego bricks are dumped on (from left to right) Westchester County director of economic development Larry Gottlieb, Yonkers Mayor Mike Spano, Merlin Entertainments divisional director James Burleigh, Yonkers councilman Michael Sabatino, and Yonkers council president Chuck Lesnick during the Legoland groundbreaking ceremony. Jim Sulley/newscast
On Oct. 17, a dozen local elementary students unleashed a colorful cascade of Lego bricks onto the heads of Yonkers Mayor Mike Spano and other hard-hat-wearing officials to celebrate the groundbreaking of an exciting new entertainment and educational center at Ridge Hill in Yonkers.
The event signaled the start of construction on the Legoland Discovery Center Westchester, which is scheduled to open in the spring. Once completed, the center will be a $12 million, 32,000-square-foot indoor attraction featuring more than three million Lego bricks. Hands-on play areas, a 4-D cinema, master classes led by Lego Master Model Builders, and two Lego rides will all be geared toward kids ages 3-10 and their families. The center will also include party rooms and Miniland, which will feature miniature replicas of landmark locations and buildings throughout Westchester County and New York City, made entirely out of Lego bricks.
"The enthusiasm with which we have been greeted in Westchester was a key factor in our decision to come here," said James Burleigh, divisional director of midway developments for Merlin Entertainments, who was among the hard-hat-wearing crowd. "We can't wait until spring of next year, when children big and small and their families get to experience Legoland Discovery Center Westchester first-hand."
For updates on Legoland, visit legolanddiscoverycenter.com or facebook.com/ldcwestchester.