New mom Line Rothman started Glamourmom in March 2000 out of sheer desperation. As a breastfeeding mother who'd just had her first baby, Line tried in vain to find a fashionable, supportive nursing bra. Her solution? A nursing bra tank — unlike anything else on the market.

She sewed the prototype, which she named Built-in Nursing Bra Tank. She encountered her fair share of skepticism and had to knock on many doors in the garment district before she found a company that agreed to produce just 25 of her new concept garment. She advertised in pregnancy magazines and brought her design to maternity shops and trade shows. Based on the overwhelming positive response she received, Line knew that she was filling a need.

By March 2001, Glamourmom — a name Line chose to signify the lifestyle of active, involved, and busy women who breastfeed their babies — was already selling in local stores. Today the company is a leading designer and manufacturer of patented nursing fashions, whose products are sold in over 1,000 stores worldwide, in addition to their website. Headquartered in Rye, it has grown from one determined new mother to a staff of 14.

Running her own business offers Line the flexibility to work her schedule around her family, which has grown to include three children: 8-year-old Elva Rose, 6-year-old Nina Val, and 3-year-old Carl River. All are aware of what Line does all day, and Elva Rose knows that she was the inspiration for her mother's work. And the business has become a fulltime job not just for Line. Her husband, Michael Rothman, is her business partner. In a way, Glamourmom is like their fourth child: they conceived it and continue to nurture its growth, every day.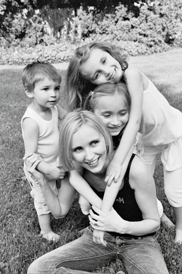 Once the nursing tank took hold, the focus of the business shifted to expanding the options that Glamourmom offers. The line now includes a Nursing Bra Top, Transition Nursing Bra Tank, Nursing Bra Long Tank, Nursing Bra Long Top, Nursing Bra Long Top, Nursing Bra Long Sleeve, Nursing Bra Tank Lace V-Neck, Nursing Bra Slip Dresses, Tankini Swimsuit, and Baby Bodysuit, each available in a variety of sizes and colors. But Line tries to ensure that Glamourmom maintains the personal image that set it apart from the beginning. She and her designers attend trade shows and events such as Big City Mom and La Leche meetings in order to stay in touch with and responsive to their customers. Line is proud of the quality of her clothing, as well as the positive impact her product line has on her customers' lives, encouraging them to breastfeed their babies.

Next on the horizon for Glamourmom is a big step, one that will bring the company almost full circle. Line and Michael are preparing to open a Glamourmom showroom in Manhattan. Since the garment district is where Line first had to convince the industry to accept her innovative product, establishing a showroom in its midst will be a satisfying accomplishment, as well as validation.

LAUREN RUSH is a freelance writer and editor living in Westchester with her husband and four children. She has written articles on health, education, parenting, and business for various magazines.