Grand Prix New York Spins Bowl introduces five new leagues to its bowling alley this spring. Recently opened on Nov. 15, Spins Bowl offers a state of the art bowling center that includes seven VIP lanes for private events in addition to its 12 family lanes for public use. The location aims to be "over the top," says Chris Pricola, competition director.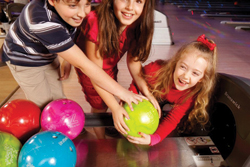 Spins Bowl will launch its new 2012 Spring Junior League this May. The league is for kids 6 and older, and is held on Saturday mornings. It aims to help kids learn the skills needed for bowling while also encouraging a fun environment. The league also allows for each child to be fitted for their own bowling ball and a pair of personal bowling shoes.
Another league offered this spring is the Business Person league, which starts in April. Held on Monday nights, it is open to players of all skill levels. Teams are made up of four players, and the teams compete in a series of three games. The highest scoring team will win a prize.
Other leagues to look out for are the Adults league, Couples league, and the Individuals league.