These Westchester-based businesses are offering something new and noteworthy for local kids and families.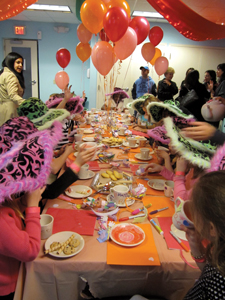 The Place to Party
LIFE...The Place to Be, a family entertainment and special events venue in Ardsley, was named "Best Place to Throw a Party" by Westchester Magazine's Best of Westchester 2010. LIFE has expanded its birthday party offerings to include several new themed packages.
During the Be a Rock Star party, kids can become part of a rock band, perform for guests, and receive a CD with their recorded performance. There's also a Video Dance Party for older children, a Spin Art Party for the craftier crowd, and a Tea Party for little ladies, which features tea and crumpets in an Alice in Wonderland-like setting (pictured). All theme parties can be combined with any of LIFE's standard amenities, which include an arcade, laser tag area, rock climbing, bowling, and a three-story high play structure.
LIFE also recently added new video games to its arcade area, including H2O Overdrive, All Aboard, and a life-sized game of Operation.
Beginning this month, LIFE will host family movie nights on the last Thursday of each month, when families can drop by with blankets and beach chairs, enjoy popcorn and beverages, and choose from two age-appropriate movies.
Located at 2 Lawrence Street, Ardsley. 914-591-4400. www.lifetheplacetobe.com.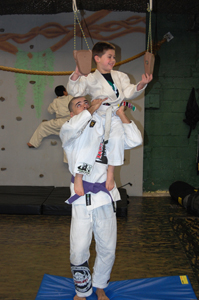 More Than Martial Arts
Jungle Gym Martial Arts of New Rochelle, a Brazilian Jiu-Jitsu and mixed martial arts school, opened its doors July 11. The center joins two sister schools in the Bronx and Yonkers.
The new school offers martial arts classes for children and adults. While Jiu-Jitsu serves as the school's base approach, it also incorporates elements from boxing, Thai fighting, and other combat forms, to give its students a well-rounded martial arts education.
But Jungle Gym's programs extend beyond teaching self-defense. Belt rankings at Jungle Gym are determined by both a student's fighting skills and their performance in the school's Life Skills program. "Our goal is not to create fighters," says Patrick Kelly, co-owner of the school. "We want our kids to excel in school and graduate college, to be well-rounded, productive members of society."
With this mission in mind, Jungle Gym also offers seminars on topics like How to Deal with Bullies and How to Deal with Strangers. Next up will be a free Halloween event with games, activities, and a similar educational theme, Kelly says.
Jungle Gym also offers birthday parties, which include martial arts demonstrations and a host of games and activities, such as indoor rock climbing.
10 Cottage Place, New Rochelle. 914-355-5955. www.junglegymnewroc.com.

A Gamer's Paradise
Gamin Ride, a mobile, indoor-outdoor video game theater, became available to Westchester and Fairfield County residents last month.
The 38-foot mobile theater, which can be rented for birthday parties, school functions, or other special events, is equipped with six HDTVs (four inside, two outside) that can accommodate 24 players at one time on popular gaming systems XBOX 360, PlayStation 3, and Nintendo Wii. The 4-D theater includes the latest lighting and sound technology, vibration seating, and Smell-A-Vision, which allows guest to smell the game they are playing. (For example, Madden football smells like grass and Rock Band smells like cotton candy and popcorn.) Gamin' Ride events also offer laser tag, Sumo wrestling, and bumper balls. Each party is hosted by a professionally trained "Game Guru."
Gamin Ride, based in Pelham Manor, is one of 11 franchise locations in seven states. The franchise is owned by local residents Beth and Philip Talamas.
"This is such a cool company because it provides something that children love and is easy for parents," Beth Talamas says. "We love the flexibility of bringing the party right to a client's door and being able to service a large territory."
For more information or to book a party, call 1-888-36-GAMES or visit www.gaminride.com.