A Cut Above
Snip-its is the latest place for a children's haircut in Scarsdale. When you enter the brightly decorated store, it feels like you're stepping into a cartoon, and every child having a haircut gets a prize from a 'magic box.' Snip-its even offers a 'parent's chair' at each of its six cutting stations, so if your child isn't sufficiently distracted by the videos, murals, and computer games, you can sit comfortably by her side. And there's a party room for birthday parties. Snip-its, located at 450 Central Avenue in the Scarsdale Park Mall, joins another Westchester location, in Cortland Town Center. 914-574-5320 or www.snipits.com.
Nu Food for New Moms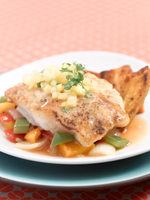 Nu-Kitchen, a NYC-based meal service, has expanded to Westchester. You get three complete meals a day, Monday-Friday, plus two snacks, for $42 per day. Nu-Kitchen is for anyone without the time to cook, but it is particularly well suited to new moms, since the meals can be customized to provide optimum nutrition to new mothers. And it can tailor meals to anyone wanting to lose weight, or follow a vegetarian diet, and eat well. Meals are delivered very early in the morning, and you refrigerate them and reheat (usually in the microwave) as needed. Yes, you can pour yourself a bowl of cereal, but imagine a breakfast of hot millet and caramelized fruit. And instead of a sandwich for lunch, why not Oaxacan tamales with tomatillo salsa? Each week you pick from an extensive and varied menu. To sign up, go to www.nu-kitchen.com.
An Oasis from Stress
Melt away the stress of 2008 and recharge in the new year at the all-new Oasis Day Spa. With locations around Manhattan, Oasis is known as a one-stop shop for health, wellness, and beauty in a causal and relaxing environment. Now Westchester residents can enjoy that same unique experience.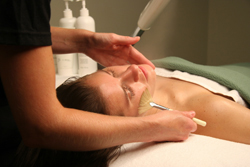 Husband and wife team Bruce and Marti Schoenberg, longtime residents of Hastings-on-Hudson, launched Oasis in Westchester to provide a comfortable environment where spa-goers could rejuvenate without feeling pressured to buy high-priced spa products. Located conveniently off the Saw Mill River Parkway, Oasis' 6,500-square foot facility has 15 treatment rooms, including a couple's room where parents can enjoy side-by-side massages. There's also an outdoor rooftop relaxation deck with a Zen garden where spa-goers can enjoy massages in the warmer months. The full array of treatments for men and women includes a large selection of massages such as Swedish, prenatal, lava stone, and aromatherapy, facials, body scrubs, waxing, salon services, as well as packages tailored for any lifestyle. Oasis' large retail space offers skincare lines like those from Dermatologica and gifts from Tocca, Tea Forté, and more. Check their website for specials and events. Oasis Westchester, 50 Livingstone Avenue, Dobbs Ferry. 914-409-1900. www.oasiswestchester.com.