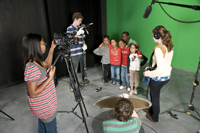 Photo Credit: Ed Cody
Lights! Camera! Action!
Anyone who has attended a film screening, class, or special event at the Jacob Burns Film Center in Pleasantville knows just how successful the theater has been since it opened in 1998. In response, the Burns has built a state-of-the-art, eco-friendly Media and Education Center down the block, with a ribbon-cutting ceremony December 5 and programs slated to begin in January. With a curriculum for both children and adults, the new center will teach students how to use visual media to become critical thinkers, better storytellers, and individual creators.
The 27,000-square foot facility boasts 15 editing suites, a recording studio, two fully equipped soundstages, and professional equipment and software. The "green" space runs on natural daylight, uses a geothermal heating and cooling system, and makes use of recycled building materials.
The Media and Education Center offers classes in animation, cinematography, editing, lighting and sound design, to name a few. Classes like "MyTube" teach students to write, produce, direct, and edit their own short films. Students use professional-grade sound editing programs in "Making a Music Video," and learn how to produce a professional portfolio in "The Reel World." The center also has acting workshops, screenwriting master classes, lectures, and film screenings.
The Jacob Burns Film Center is at 364 Manville Road, Pleasantville. 914-747-5555; www.burnsfilmcenter.org.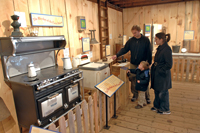 Far More on the Farm
A new museum at Muscoot Farm in Somers was dedicated by County Executive Andy Spano in October during the farm's annual Autumn Celebration. The museum joins the farm's Dairy Barn, Milk House, Ice House, Blacksmith Shop and the other barns and buildings to give visitors another outlet to learn and appreciate the rich history of this Westchester landmark and historic site.
The museum's 1,000-square foot building, which was previously used to store carriages, is now a virtual learning center and authentic historical hub. With interactive exhibits, replicas like the hand-driven bone grinder and the boot-driven corn husker, as well as historic photographs of the farm, including those from Spano's personal collection, the museum offers a glimpse into the unique history of Muscoot.
Muscoot Farm is a Westchester County Park located on Route 100 in Somers. For more information: 914-864-7282; www.muscootfarm.org.