Check out these new additions to Westchester County, NY, that cater to kids and families.
Animal ABCs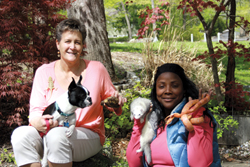 After serving as environmental educators in various venues throughout the county for the past two decades, Nancy Carlson and Karen Pankey have joined forces to start their own program called All 'Bout Critters. The two have taken the knowledge they gained from positions at locations such as the Greenberg Nature Center and Rye Nature Center to develop this fun, educational program, Carlson says.
The program, which the pair brings into homes, schools, libraries, senior homes, and other facilities, teaches safety and respect for animals and how to care for pets. The animals featured in the program-like chinchillas, hedgehogs, crabs, and nonpoisonous snakes and spiders-are considered exotic pet animals, Carlson says. Carlson and Pankey adopt these animals, most of which are unwanted pets.
All 'Bout Critters is available for birthday parties for children as young as 3½. During parties, the animals are highly supervised and touching/handling is allowed when appropriate. "Safety is our first and foremost priority," Carlson says. "We try to get the message across that animals can bite, so we need to treat them with respect and they'll treat us with respect."
For more information, call 914-831-9580 or visit www.abcritters.com.



A New Tutor Resource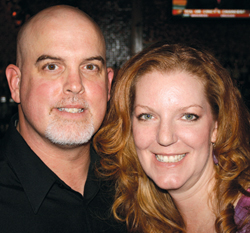 Private Tutor Directory LLC officially launched its Web site last fall, and it has since developed into a one-stop place to find private tutors in all areas of expertise, catering to all ages. The site, PrivateTutorDirectory.com, started in the NY, NJ, and CT area, but is now national, says Dave Jones, a Westchester County teacher and resident who co-founded the company in 2004 with wife Amy.
Private tutors can log on to the Web site and fill out a profile with their location, certifications, area of expertise, and contact information. Users can then log on for free and search for a private tutor in their area. The site has options to tailor your search by region and town, and by the tutor's area of expertise, making it very user-friendly, Jones says, adding that future components will help to localize content even more. The site also has a feature that allows users to check on each tutor's employment and certifications. Additionally, the site has an "En Español" function that translates certain profiles into Spanish.
"We wanted to create an online community," Jones says. "People can find private tutors for academics, the arts, athletics, technology, counseling-anybody who has expertise and offers their services."
For more information, visit www.privatetutordirectory.com.



Support for PROMPT Parents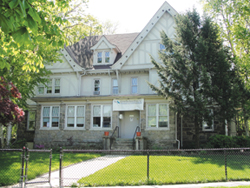 The Center for Small Jewels began offering The PROMPT Parent Workshop in January for parents of children undergoing PROMPT therapy.
PROMPT therapy, which is used worldwide by speech language pathologists, is a language based, holistic approach to speech therapy that incorporates the use of touch to the facial muscles to facilitate and/or improve speech production, says Cheryl Small Jackson, founder and executive director of The Center for Small Jewels and coteacher of the workshop with Linda Flanagan.
The Center for Small Jewels offers PROMPT therapy amidst a wide range of services for children who have or are at risk for developing developmental language delays. The PROMPT Parent Workshop trains parents, Jackson says, to help them support their child's therapy and progress in the program. The workshop is a six-hour group training program split into two sessions. "It's a wonderful way to help parents expand their knowledge of PROMPT and set up a home-based program where they can continue the therapy outside the center," Jackson says. "That's key in helping children to carry over and generalize the skills they learn."
The Center for Small Jewels is located at Three The Boulevard in New Rochelle. For more information: 914-632-9109 or www.csjinc.com.