Check out some new additions to Westchester County that cater to kids and families.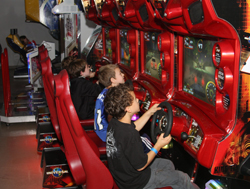 Party Packages for VIPs
LIFE...The Place to Be, a family fun center, birthday party facility, and special events venue, opened in Ardsley last May. The facility offers 15 birthday party packages, says Steven Zukerman, general manager, and will add three to five more by its one-year anniversary.
The center, which has 30-foot ceilings and an open, finished industrial space, boasts a 56-game arcade, laser tag area, rock climbing wall, toddler area, three-story children's play structure, and four mini bowling alleys. Visitors can access these amenities during daily drop-in play or through the center's specialized birthday party packages. Themed party packages are also available, like the Red Carpet Glamour Party, where kids can dress up, walk the runway, and get their picture taken by the paparazzi.
One of the new party packages will be a Rock Concert Party, where kids can play instruments and make a music video that they can take home, Zukerman says. New crafts parties will also be added, he says, similar to the Create-A-Furry-Friend Party, where kids can build their own stuffed animals.
LIFE is happy to accommodate large parties, Zukerman says, and offers the option to create a custom party package around the guest of honor and her parents' budget.
Located at 2 Lawrence Street, Ardsley. 914-591-4400. www.lifetheplacetobe.com.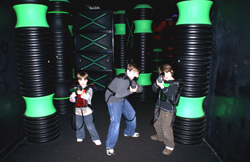 Time to Party
Sportime USA, a family entertainment center in Elmsford, introduced a new 4-D motion theater ride last month called The Trembler. The Trembler joins the list of attractions at Sportime that includes a laser tag arena, wall climbing area, an arcade with more than 200 games, billiards, batting cages, and indoor amusement rides for all ages, such as bumper cars, a Himalaya roller coaster, and the recently added 360-degree flight capsule simulator.
With 50,000 square feet of space, Sportime is available for walk-ins or to host birthday parties, school and camp outings, bar/bat mitzvahs, and other special events.
Birthday party packages are available for all different ages. Parties include specific activities, but can also be tailored to the birthday boy or girl's preferences, says Jay Matthew, owner of Sportime. All food is included, as well as goodie bags, balloons, and paper goods, and groups get their own personal host. "For the party parents, all they do is make the phone call, book the party, and they don't have to do anything else but come with their family," Matthews says. "The kids have a great time, and you can go home afterwards and relax."
Located at 380 Saw Mill River Road in Elmsford. 914-592-2111. www.sportimeusa.com.