Get the Edge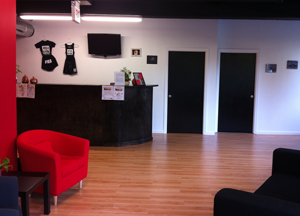 Performers Edge Dance Academy (PEDA) opened its doors to the Westchester community September 13 in Scarsdale. Expanding from its original Bronx location, the dance school offers classes in ballet, contemporary, tap, jazz, hip-hop, and many other styles. Classes ranging from beginner to advanced levels are available to both children and adults.
"This is an opportunity to bring our talent up to Westchester," says Stefanie Salaman, director of PEDA. "We want to introduce many different styles of dance to our new students so they get a more well-rounded experience."
Class sizes are small, with only 10 students, and are all taught by dancers from the Broadway Dance Center and Steps on Broadway. On Saturdays, a musical theatre class for kids ages 6 and up is offered, which combines dancing, acting, and singing. Students can showcase their new moves for family and friends at an end-of-year recital and recruit friends to join during the school's annual Dance Week, also known as Bring a Friend to Dance Class week.
Registration is offered on a rolling basis. Peformers Edge Dance Academy is located at 4 Grayrock Road in Scarsdale. For more information: 914-713-3282 or www.performersedgedanceacademy.com.
Also see: Our annual guide to