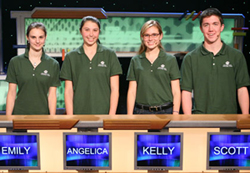 Four student scholars from Pleasantville High School in Pleasantville will compete against peers from Putnam Valley High School in Round One of "The Challenge," an award-winning television quiz show for high school students. The matchup will kick off the show's 13th season on Wednesday, December 16, at 6:30pm on MSG Varsity, according to a press release. MSG Varsity is Cablevision's recently launched 24/7 television network dedicated to high school sports, activities, and events in the tri-state area.
Competing for Pleasantville will be Seniors Kelly Anne McCullagh, Angelica Schwartz, Scott Tierney, and Emily Wessling. Junior Sean Bramswig will serve as the alternate team member and Academic Advisor Joanne Pugliese will be standing by.
Moderator Jared Cotter, former FUSE TV host and "American Idol" semi-finalist, will quiz the competing teams on their knowledge of history, arts and literature, current events, math, and science.
"The Challenge" began as a Long Island effort 13 years ago and now includes the entire tri-state area - Long Island (with Nassau and Suffolk as two distinct regions), the Bronx, Brooklyn, Westchester/Lower Hudson Valley, New Jersey, and Connecticut. This season, 184 high schools will compete for the title of Tri-State Challenge Champion - a prize that includes $10,000 for their school and $500 for each member of the winning team.
Episodes of "The Challenge" air Sunday-Friday at 6:30pm on MSG Varsity, Cablevision's iO TV - Channel 14. "The Challenge" will also repeat on News 12 Westchester on Saturday and Sunday evenings at 6:30 and 9:30pm. Past episodes of the show can also be viewed at www.powertolearn.com/challenge. For more information, including competition standings, statistics, and short contestant bios, visit www.powertolearn.com/challenge.