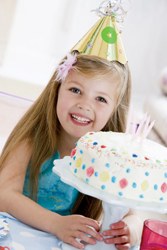 Food at parties seems to be an increasingly challenging issue. Some parents have gone organic, while more kids are diagnosed with allergies and lactose intolerances, and then there is the old-fashioned picky eater. See what advice the experts in your area had for parents about serving the right food at your child's birthday party:
"Identify if there are any children attending the party with allergies and if there are, offer to have the parents pack an allergy free lunch for them."
-Dawn Handler, Owner of Carnival Time, Mamaroneck
"In the party invitation, ask if any of the guests have allergies then be sure to choose a venue that can accommodate your party. Parents can also bring their own cupcakes or meals for their children just to be safe."
-Heather Capelle, Director of Operations for APPLAUSE, Home of Broadway Babies, Rock-n-Roll Babies, and Superstars & Applause, Mamaroneck
"Call ahead to let the venue know if there is a child with a severe allergy. Parents should ask questions about how the venue makes their products and what the ingredients are. Or bring something if there is nothing available so the kids don't feel left out."
-Kathy Buonanno and Marlaina Bertolacci, Owners of Main Street Sweets, Tarrytown and Bronxville
"I always advise parents to keep food simple. Parents appreciate healthier choices and I see a lot more water bottles served instead of juice boxes. Also, plan a party in between meals and have a simple cake or cupcake celebration."
-Nancy Solomon, Owner of Studio B Dance, Eastchester
"We offer more organic fruits and vegetables and when parents order platters, the kids eat them too. For a party at home, tuna or chicken salad, a veggie wrap, or a cheese sandwich can be served."
-Sima Paknejad, Owner of Fun Craft, Scarsdale
"Having a birthday party at a public venue limits the food choices yet parents can ask about bringing in food or a special cake to accommodate dietary restrictions."
-Jay Matthew, President of SPORTIME USA, Elmsford
"We archive all labels of food items so parents can see the ingredients and we also offer items from vendors with products that are peanut free, dairy free and egg free."
-Michelle Saint-Victor Torres, Life Eats Cafe Manager at LIFE The Place To Be, Ardsley