An organic nutrition and fitness center opens in Mount Kisco, offering an array of fitness programs, such as pre-natal, restorative yoga classes, and beyond.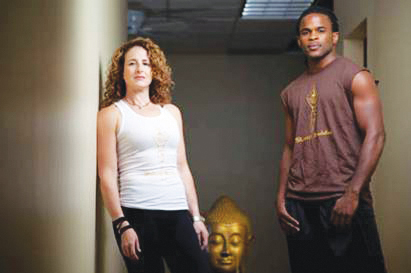 Out in Mount Kisco, the Buddha has opted for a leaner look. On October 15, Skinny Buddha, a fitness and organic nutrition center co-created by chef Elyce Jacobson and Golden Gloves boxer Shaka "The K.I.N.G" Davidson celebrated their grand opening. Westchester locals who came to the event sipped on healthy, organic fruit "mocktail" versions of classic beverages like the Long Island iced tea and mojito while enjoying live music. In addition to the sounds of violinist Daisy Jopling, a globe-trotting solo and group artist known for mixing her classical music training with modern hip-hop elements, DJ Miss Deezy also performed.
Skinny Buddha, which offers fitness programs for weight loss, detoxification, pre-natal, restorative yoga, and body massage comes equipped with a team of health professionals including a nutritionist, yoga instructor, and a holistic health counselor. The Skinny Buddha's "Baby Bearer Buddha," a program specifically for pre-natal moms, includes food that contains essentials such as folic acid (proven to prevent Spina Bifida in newborns), calcium (to supplement mom's depleted supply), and zinc (crucial for the baby's brain development and growth).
In their state-of-the-art studio, Jacobson and Davidson work to maximize their clients' results by proving customized workouts and diets, keeping detailed progress reports, and 24/7 follow up.
"We believe strongly that a healthy mind and a healthy body will transform people's lives, and we are committed to helping our clients reach their greatest potential," says Jacobson.
Skinny Buddha is located at 128 Radio Circle, Mount Kisco. For more information, visit myskinnybuddha.com. Contact Skinny Buddha directly at [email protected] or 914-666-9646.