The 15th annual 100.7 WHUD Kids Fair in White Plains, NY, will be an entertaining and educational event for the whole family.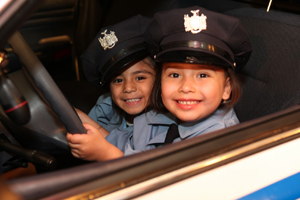 April promises to bring a little something extra for families in the county. For its 15th year, the 100.7 WHUD Kids Fair brings together families for a variety of activities designed to entertain and educate on topics as diverse as health, public safety, computers, and ecology. From the Westchester County Parks Department's farm animals and the face painting stations, to free giveaways throughout the day, the Fair is very much like a carnival. Yet unlike tattooed carnies and day-old funnel cakes, through its interactive exhibits, live entertainment, and science experiments, the Fair fosters an environment of active learning for all ages.
Games, attractions, songs, and dance will entertain and teach children about important issues that affect their lives. In past years, children have discovered hospitals by touring a makeshift operating room, dressing up like doctors, and playing the ever-popular organ toss game. They have examined environmental issues with the help of Westchester's very own alternatively fueled Veggie Van.
Info
Where: The Westchester County Center, 198 Central Avenue in White Plains
When: Saturday, April 17, 11am-5pm
How much: $8; $5 children
Ages: 3-13
For more information: 914-995-4050 or www.westchestergov.com
Designated sports areas and exercise displays throughout the Fair give children a chance to use their bodies as well. The county's Be-Fit Mobile stopped by last year, bringing hula hoops and jump ropes for kids to use to encourage fun and healthy exercise habits.
Yet it isn't all for the kids. Parents can investigate the myriad of county services available, including the award-winning Children's Summer Ecology camps, as well as summer sports and music camps offered by the county's Parks Department. Various other county departments and organizations will offer helpful information and free materials for parents looking for anything from public safety programs to creative activity ideas to get their children through the dog days of summer.
A small admission fee gains families total access to all of the fun the Fair has to offer. As in past years, proceeds from admission benefit H.O.P.E. for Youth Foundation and other children's charities in the Hudson Valley.
For more family activities and events in Westchester County, visit our Online Calendar.