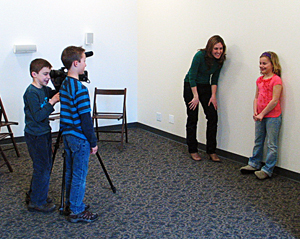 In 1921, during the reign of the silent film, the Pelham Picture House opened its doors. Since then, the theater has withstood the steady progression of film, from "talkies" to present-day special effects, and survived a demolition threat in the early 2000s. Saved by a dedicated group of residents who formed the Pelham Picture House Preservation organization, the landmark lived on and changed its name to The Picture House Regional Film Center in 2005. After years of fundraising, The Picture House temporarily closed its doors in September for much-needed renovations.
March 26 saw the reopening of the "Grand Dame of Pelham," as the theater is affectionately nicknamed. After a relative "face lift," which updated everything from the theater seats to the concession stand, the Dame now boasts a second theater and a new media classroom. Beginning April 5, the latter will host programs on acting, screen writing, and producing for children in grades 2 through 12. Beginning April 15, the theater will offer birthday parties in which guests can enjoy a private movie screening, free popcorn and a drink, and a special gift for the birthday child.
Also new for The Picture House's 90th year is a membership program that offers family-friendly discounts on movies and other programs.
The Picture House is located at 175 Wolfs Lane in Pelham. For more information: 914-738-3161 or www.thepicturehouse.org.