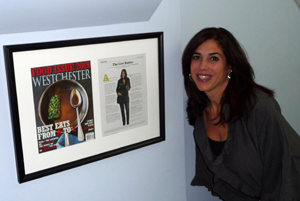 Lice and nits beware: The Lice Lady of Westchester now makes house calls.
After contracting lice from her children in 1997 and 1998 - twice in one school year - Anna Albano-Krosche began a round of head checks at the door, where the mother of two screened her children's play dates for the bugs before they entered her home. When she found the creepy crawlers on more than one little noggin and was sought for advice by their parents, a business was born. To date, Albano-Krosche has treated thousands of local families in her in-home salon. In September, when her youngest child left home for college, The Lice Lady decided to take her business on the road, and she now offers her services in homes across Westchester, Rockland, and Connecticut.
Albano-Krosche travels with all the supplies she uses in her salon, including an all-natural enzyme shampoo by Happyheads. Once the little lice victim has been cleared, The Lice Lady checks other family members for the pests and offers a follow-up visit to ensure the household is lice-free. She also offers a guarantee that children will be fit for school the day after treatment.
And while her business has grown steadily over more than a decade, she hasn't forgotten what it was like to be a mom with lice and no answers. That's why she offers her services seven days a week and, for those who can't afford a salon visit, "I'm always happy to give advice over the phone," she says.
For more information: 914-497-5465 or www.theliceladyofwestchester.com.
Also see: Our Health Resource Guide for families in Westchester and the New York metro area