The Picture House in Pelham, New York, has added several classes to its educational programming, including a filmmaking class for young children and screenwriting and acting classes for adults.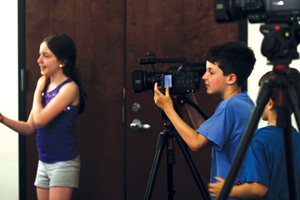 The Little Company complements the Picture House's program for older children (grades 2 to 12), The Company, which includes more advanced instruction on film acting, screenwriting, and directing.
The Picture House, the Pelham film center and theater that hosts year-round entertainment and education programs, will introduce a new educational program this month for the smallest of budding film actors, writers, and directors: The Little Company.
This new program includes a Mini Movie Makers class on Wednesday mornings (ages 15 months to 2 years) and afternoons (ages 3 to 4). "The philosophy of The Little Company is a full immersion into the magical world of movie making," says Beth Manspeizer, director of education programs at The Picture House. "Students will explore set design, costume, characters, music, movement, puppetry, and storyboarding." In the early childhood class, little ones will explore the senses and elements of a story in a fun and playful way. The class for preschool-aged children will focus on acting and storytelling. Children will draw their own storyboards and bring their creative stories to life with costumes, music, and dance. Parents and caregivers are welcome to join their children in the early childhood program, while the preschool program is drop-off only.
The Picture House will also debut two adult programs in October: Screenwriting for Adults and Acting for Adults.
The Picture House is located at 175 Wolfs Lane in Pelham. For more information: 914-738-3161 or www.thepicturehouse.org.
See our comprehensive list of theater, drama, and acting classes for kids in the NYC area