On May 1, ME Smiles Dental will offer a new program, Toothprints. Dr. Erica Fish, DMD will be performing the dental bite impressions, which will serve as a form of identification for the safety and security of your child.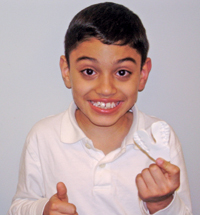 Toothprints was originally developed by a pediatric dentist who was looking for a way to protect his own kids. Every individual has his or her own unique tooth prints, and like fingerprints they can be used accurately and effectively to identify your child. "We take the children in our community's safety very seriously and this is the best way the police can track your children," Dr. Fish says.
The Toothprints procedure is available to patients ages newborn to 18 years and takes only about 30 seconds to complete. The child bites into a thermoplastic wafer, which is made of softened wax, and the bite is recorded. The bite records the size and shape of the child's teeth, the tooth position, and the relationship between upper and lower jaws. Along with the tooth prints, saliva is also captured, making the wafer effective for scent-dog tracking. After the procedure the parents take the print home and store it in a freezer.
The program will run indefinitely at ME Smiles Dental located at 280 N. Central Ave., Suite 430, Hartsdale.