Check out our favorite events for kids happening this August in Westchester County, New York. You'll find some great things to do as a family, including kids' shows and concerts in Scarsdale and Larchmont, a steamboat festival in Kingston, a special nature program at South Salem's Wolf Conservation Center, a Jewish storytelling performance in Sleepy Hollow, and science and nature workshops for kids aboard the Science Barge in Yonkers.

Cap-Stealing Monkeys
The Vermont PuppeTree, a touring theater troupe, will perform Caps for Sale, based on the book by Esphyr Slobodkina. This simple folktale, of a hat-seller whose inventory of hats is lost to mischievous monkeys during a nap, occurs around the world in every culture. August 1 at 7pm. Best suited for younger children. FREE. Scarsdale Public Library, 54 Olmstead Road, Scarsdale. 914-722-1300.
Steamboat Days
The Hudson River Maritime Museum, in cooperation with the North American Steamboat Association, hosts its annual Steamboat Days this month in its waterfront events courtyard. An activities tent will feature assorted maritime-themed children's art activities and old-fashioned arcade games. Authentic steamboats will offer rides on a first-come/first-served basis. The museum's steamboat play area will provide an opportunity for children to learn how steamboats work. Music, food, a traditional puppet show, and lots more fun round out the day. August 6. 11am-5pm. $4, $10 family of five. The Hudson River Maritime Museum, 50 Rondout Landing (in the historic Rondout waterfront district), Kingston. 845-338-0071.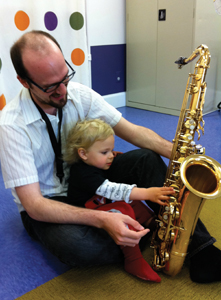 Groove to Summer Jams
Saxophonist Johnny Butler (pictured here, with a fan) will perform in Summer Jams featuring Music for Aardvarks, an interactive musical experience for kids ages 6 months to 5 years featuring singing, dancing and live, original music by musicians and educators. Registration strongly suggested. August 23-25 at 9:30am. Groove Performing Arts, 108 Chatsworth Avenue, Larchmont. 914-834-3383.
A Magnificent Mystery
The elusiveness of the eastern cougar is one of the great mysteries in North American natural history, one that has fascinated our community since an extremely rare sighting of the cat in Greenwich, CT. Despite thousands who have reported spotting the species from Maine to Mississippi, only a dozen confirmations have emerged in the past generation. Join Christopher Spatz of the Eastern Cougar Foundation (ECF) for a special talk, The Search for the Eastern Cougar, about the behavior, biology, and current range of this magnificent predator, and how saving it is imperative for the recovery of critically declining eastern forests. After the talk, meet Alawa and Zephyr, the Wolf Conservation Center's two newest ambassador pups. Pre-registration required. August 27. 6pm. $16, $13 children under 12. Wolf Conservation Center, 7 Buck Run, South Salem. 914-763-2372.
It's a Long Story...
The age-old practice of oral storytelling is found in every culture the world over, and has a particularly rich tradition in the Jewish experience. For many, to hear a Jewish story or song is to share the humor and warmth, wisdom and angst of an ancient and diverse group of people bearing a remarkable history. This month, the Hudson Valley Writers' Center presents Fables, Parables & Songs: The Humor & Wisdom of the Jewish People, featuring storyteller Arthur Strimling, cantor Lisa B. Segal, and live klezmer musicians whose traditional sound adds an old-world feel to these contemporary stories. This special event takes place August 28 at 4:30pm (doors open at 4pm and seating is not reserved), followed by a reception. $15. All proceeds are tax-deductible and will directly benefit the Writers' Center. The Hudson Valley Writers' Center, 300 Riverside Drive (in the restored former Philipse Manor railroad station), Sleepy Hollow. 914-332-5953.
All Aboard the Barge
In August, the hot and sticky month, kids are pretty much past the joy of no school and unlimited outdoor time, and have resorted to air conditioning and video games. Renew their appreciation for nature -- and keep their brains turned on! -- with a family outing to the Science Barge in Yonkers. This greenhouse/environmental education center, which floats on the waters of the Hudson River, hosts "Science & Art Sundays" throughout the summer for ages 5-10. Each week focuses on a different topic; in August, explore the art of crabbing, build a boat that floats, make a one-of-a-kind birdhouse, and learn about and fish for eels. Workshops run Sundays, 2-4pm, through November 6. RSVP recommended; e-mail [email protected]. $5 per child. The Barge is open Saturday and Sunday, 12-6pm ($3 suggested donation). Science Barge, 99 Dock Street, Yonkers. 914-375-2151.
Also see: Family Outing: Wave Hill
For even more upcoming free and low-cost family events in Westchester and the NYC area, visit our Online Calendar