Looking for some fun and low-cost things to do with kids in Westchester County NY this December? We've hand-picked the best kids events from our calendar section, including some great holiday events and shows for families, a Christmas tree sale that benefits a good cause, a FREE Harry Potter Marathon in honor of winter vacation, a FREE Arts Day, and two fun new exhibits.
For even more free and low-cost things to do with kids in Westchester and the NYC area, check out our full, searchable calendar of events.
Yes, Virginia...
Santa will make a special stop this season at the Ritz-Carlton Westchester's Annual Breakfast with Santa. The breakfast buffet takes place in the hotel's ballroom, which is transformed into a holiday wonderland for the celebration. There will be arts and crafts activities, music, and, of course, photos with the jolly man himself. December 4. 8:30-10am. For ages 3-10. $45; free ages 3 and younger. Space is limited, so make reservations early by calling 914-467-5826.
The Ritz-Carlton Westchester, 3 Renaissance Square, White Plains. 914-467-5817. www.ritzcarlton.com.
A Romantic Adventure

As part of the ArtsWestchester initiative Free Arts Day 2011, Pelham Picture House presents a free screening of the beloved fairytale The Princess Bride on December 4 at 1:30pm. Introduce your kids to this classic film, filled with adventure, romance, plenty of laughs, and a spectacular cast that includes Robin Wright, Cary Elwes, Mandy Patinkin, and Billy Crystal.
Advanced online registration at www.thepicturehouse.org is strongly recommended. Please note that in order for your registration to be honored, you must bring your printed, reserved ticket and arrive at the theater at least 15 minutes prior to showtime. Box Office walk-ins will be honored on a first-come-first-served basis only.
Pelham Picture House, 175 Wolfs Lane, Pelham. 914-738-3161. www.thepicturehouse.org.
The True Meaning of Green
Fraser Fir trees as well as red and white poinsettias, pine roping, and decorated or undecorated wreaths will be for sale at the Huguenot Memorial Church Annual Christmas Tree and Holiday Boutique Sale. Net proceeds from the tree sale will go to local charitable organizations, including Family Services of Westchester and the After-School Program at Good Shepherd Presbyterian Church in Yonkers. This year's Holiday Boutique will feature handmade items like masa pan (bread dough) tree ornaments, wool shawls, ponchos, tablecloths, and purses from Ecuador, and proceeds will support Esther's Aid in Rwanda. There will be a selection of Equal Exchange fair-trade coffees and chocolates, which support small-scale farmers across the world, plus free doughnuts, coffee, and hot chocolate. December 3. 7am-1pm. Plan to arrive early; the sale will be held rain, shine, or snow, in the church parking lot.
Huguenot Memorial Church, 901 Pelhamdale Avenue (corner of Pelhamdale Avenue and Boston Post Road), Pelham. 914-738-3488. www.huguenotchurch.org.
Time to Celebrate
Puppeteer and puppet-maker Jim Kroupa, a former associate of Jim Henson who worked on "Sesame Street," "Between the Lions," and "The Muppets Take Manhattan," will present a special program on December 10 at 1:30pm at the opening of Time to Celebrate, an exhibition of miniature seasonal vignettes that will run through March 15, 2012. Reservations requested; call 914-962-2970. Suggested donation: $5; $2 ages 5-14; free ages 5 and younger.
Yorktown Museum, 1974 Commerce Street, Yorktown Heights. 914-962-2970. www.yorktownmuseum.org.
Holiday Season Highlights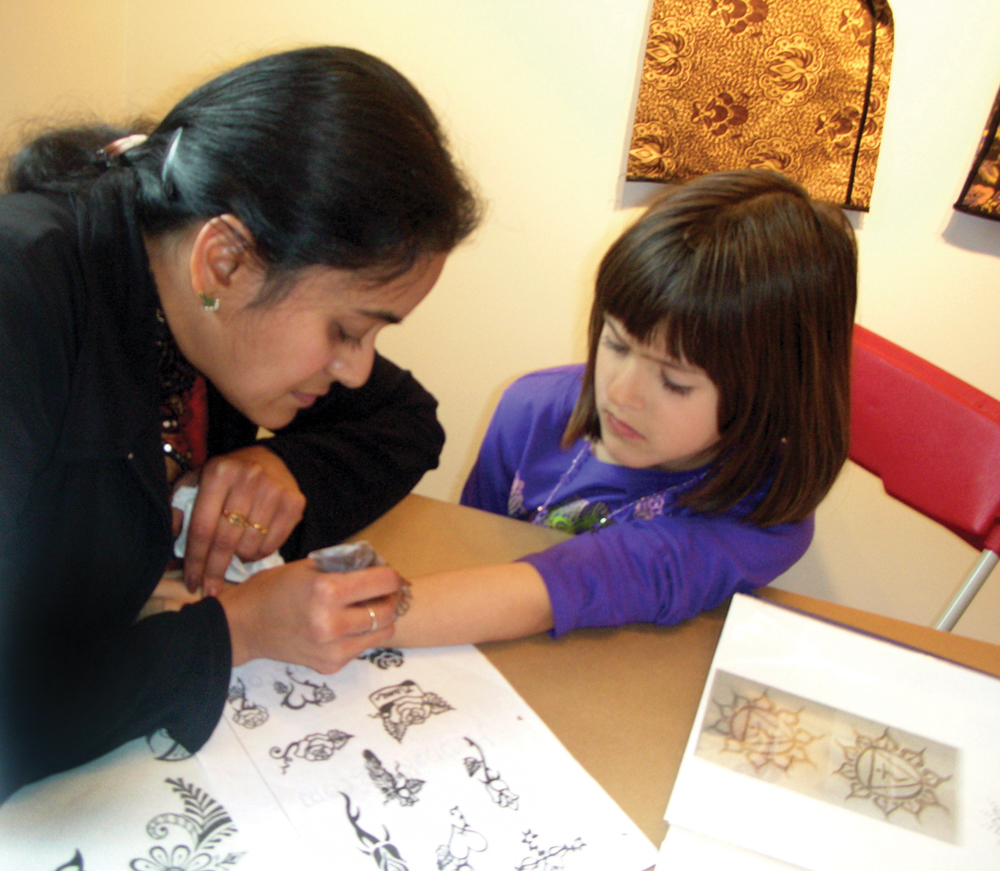 Charlie Brown had it right...it isn't easy to find the true meaning of the holidays. But there's enough to do around Westchester this month to help you figure it all out, whatever your personal traditions.
1. An annual musical tradition for families and children in Pre-K through third grade, Westco Productions' Frosty the Snowman makes his friendly appearance once again this year. And you can stick around after the show to meet Frosty and his friends. December 1-2 at 10:30am; December 3 at 11am.
Rochambeau Theater, 228 Fisher Avenue, White Plains. 914-761-7463. www.westcoprods.com.
2. Donate a box of cereal for the Hope Food Pantry at FunFuzion New Roc City, and while you're there, enjoy Breakfast with Santa at FunFuzion. The event, for toddlers and elementary schoolers, includes a buffet breakfast, one hour of unlimited video games and Funhouse rides, holiday crafts, face painting, dancing, party games, a FUZE Card for non-redemption games, and, of course, a visit with Santa! December 3 and 10. 9:30-11:30am. $20 children; $10 adults.
FunFuzion New Roc City, 19 LeCount Place, New Rochelle. 914-637-7575. www.funfuziononline.com.
3. Chanukah, the Jewish festival of lights, is a much-loved holiday of customs, both culinary (yummy potato latkes and chocolate "gelt") and traditional (lighting the menorah, playing with dreidels). This year, Chabad of the Rivertowns welcomes all to their Chanukah Wonderland, a gift shop and family fun house. Decorate a dreidel, craft a Chanukah candle, visit Chanukah multi-media stations, take a picture with Judah the Maccabee, or join an ancient archeological "dig." December 5-27. 11am-6pm. FREE.
Chanukah Wonderland, 27 Center Street (Ardsley Shopping Center), Ardsley. 914-693-6100. www.chanukah2011.com.
4. The Pelham Art Center hosts a celebration of Diwali, the Hindu Festival of Lights. In conjuntion with Westchester Free Arts Weekend, the free festival will include a classical Indian dance demonstration, Mehndi (Henna ink tattoos), and traditional Indian folk art workshops, where visitors can make a diya, a traditional clay oil lamp. December 4. 1:30-3:30pm.
Pelham Art Center, 155 Fifth Avenue, Pelham. 914-738-2525. www.pelhamartcenter.org.
5. The Field Library invites children of all ages (with a helping adult) to celebrate Kwanzaa by making a special Kwanzaa Craft. December 26. 2pm. FREE.
The Field Library, 4 Nelson Avenue, Peekskill. 914-737-0847. www.fieldkids.wordpress.com.
6. If a bit of holiday silliness is your pleasure, you'll want to catch the Westchester Sandbox Theatre's presentation of Goldilocks and the Christmas Bears. Chaos ensues when Goldilocks tries to bring the Christmas spirit to the hibernating three bears. Best for children ages 2-10. December 17 at 2:30pm and 4:30pm; December 18 and 24 at 11am and 1pm. $10.
Westchester Sandbox Theatre, 931c East Boston Post Road, Mamaroneck. 914-630-0804. www.westchestersandboxtheatre.com.
Teenage Dreams
Sleepy Hollow Performing Arts Center's original production of NYC: A Teenage Winter Dream is a holiday romp filled with fun, energetic numbers. The story of teenagers in love set against the backdrop of a festive Upper East Side highlights themes of childhood, love, loss, and resolution. Mix all that with a dash of Modern Family, High School Musical, and Glee to create an evening of entertainment for the whole family. December 16-17 at 7:30pm; December 18 at 2:30pm. $18; $16 students and seniors. Call 914-909-5070 for tickets.
Irvington Town Hall Theater, 85 Main Street, Irvington. 914-591-6602. www.irvingtontheater.com.
Classic Holiday Magic
For the past 15 years, the Westchester Ballet Company has been entertaining audiences with its production of The Nutcracker, and this magical holiday classic has become a tradition for families. The production features professionally trained student dancers from communities throughout Westchester and neighboring areas, along with professional guest soloists. Under the direction of Beth Fritz-Logrea and Jean Logrea, the show includes spectacular scenery and beautiful costumes, classic choreography, and special stage effects that rival the best productions in the New York metropolitan area. December 17 at 12:30pm and 4:30pm; December 18 at 2pm. Tickets purchased in advance: $20; $14 children ages 2-10 and seniors. All tickets are $25 the day of the performance. For tickets, call 914-995-4050 or visit www.ticketmaster.com.
Westchester County Center, 198 Central Park Avenue, White Plains. 914-995-4050. www.countycenter.biz.
Winter Vacation at Hogwarts
In the "Someone-Should-Have-Thought-of-This-Sooner" department, Chappaqua Public Library will hold a Harry Potter Marathon. During winter vacation (December 27-30), kids are encouraged to dress up in Potter-themed attire, bring snacks or lunch, and view the entire series in order. Those in costume will be eligible to win a daily raffle drawing.
On December 27 at 10am, it's Harry Potter and the Sorcerer's Stone [PG], followed at 2pm by Harry Potter and the Chamber of Secrets [PG].
On December 28, Harry Potter and the Prisoner of Azkaban [PG] shows at 10am, followed by Harry Potter and the Goblet of Fire [PG-13] at 2pm.
December 29 brings Harry Potter and the Order of the Phoenix [PG-13] at 10am and Harry Potter and the Half Blood Prince [PG] at 2pm.
And on December 30, Harry Potter and the Deathly Hallows, Part 1 [PG-13] will be shown at 10am, and Harry Potter and the Deathly Hallows, Part 2 [PG-13] at 6pm. FREE.
Chappaqua Public Library, 195 South Greeley Avenue, Chappaqua. 914-238-4779. wwwchappaqualibrary.org.
A Miniscule Mansion
Nybelwyck Hall, a dollhouse representing Lilliputian life at its most elegant, makes its appearance with chandeliers lit, in Glenview, the Hudson River Museum's 1897 home. The 24-room dollhouse and the granite-and-mortar Glenview share architectural features-a Great Hall and a curving double staircase. Dollhouse enthusiast Mark O'Banks created Nybelwyck Hall over the course of a decade, and furnished it with rugs he designed along with more than 900 objects, including minute musical instruments that play, doors with intricate locks that work, and a tiny dollhouse within the dollhouse's nursery. Open 12-5pm Wednesday-Sunday November 27, 2011 through January 8, 2013. Museum admission $5; $3 ages 5-16 and seniors; free children younger than 5.
Hudson River Museum, 511 Warburton Avenue, Yonkers. 914-963-4550. www.hrm.org.