Winter is a great time to cozy up under the stars, and there's a great place to do so right nearby — the newly renovated
Andrus Planetarium
, located in The Hudson River Museum in Yonkers.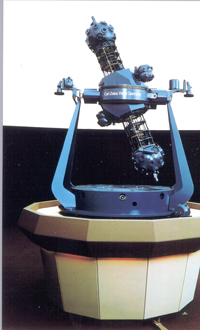 During the winter season, a variety of different shows is offered on weekends. The youngest solar-gazers can sing along with the sun and stars above, draw their very own constellations, and are given the chance to ask questions and interact with a live planetarium lecturer in
The Friendly Stars
. All ages, 8 and up, have the opportunity to view the actual night sky in our area in
The Sky Tonight
; this show is guided by a live host.  The planetarium also has a new narrated show called
Larry, Cat in Space
, where K-3rd graders can secretly travel along with Larry to the moon, when he discovers his owner, Diana, must move there without him.  These one-hour shows are shown at 12:30, 1:30, and 2:30pm respectively.
   As well, a different show is rotated each week at 3:30pm.
The Sky Tonight
will be shown on January 6 and 7. On January 13 and 14, ages 6 and up can sit around a fire while listening to Native American legends in
Daughter of the Stars
. On January 20 and 21, ages 8 and up will be taken on a journey from the past to the present day in River Through Time.  On January 26, ages 10 and up can travel to the planet Mars and discover, along with narrator Patrick Stewart, the possibility of life on the red planet, in
Mars Quest
.  Finally, on January 27, you can catch
Fito, Gato en el Espacio
, the Spanish version of
Larry, Cat in Space
.  Also, every night at 7, there is a free planetarium show for all to enjoy.
   All shows are either narrated or allow for one-on--one interaction with a planetarium staff member, helping to provide a fun as well as educational experience.  Parental supervision is required.
    The Hudson River Museum is a great choice for a weekday outing as well. Families can rediscover the splendor of the Hudson River; their
Riverama
exhibit provides a wonderful opportunity for children to have both visual and hands-on experiences with many interesting sea creatures.  While the museum's café, which overlooks the Hudson River, is still under renovation, their new gift shop offers visitors a large variety of gifts that celebrate the spirit of the museum's exhibits. 
Info
Where:
511 Warburton Avenue in Yonkers
When:
Planetarium: Saturday & Sunday shows are at 12:30, 1:30, 2:30, and 3:30pm.  The free Friday show is at 7pm. 
Museum: Open Wednesday through Sunday, noon-5pm; Friday, noon-8pm.  The museum is closed on Mondays and Tuesdays.
How much:
  Museum admission (required to enter the Planetarium): Adults, $5; seniors (62 & older) and children (5-16), $3; members, free
Planetarium admissions: Adults, $2; seniors (62 & older) and children (5-16), $1; members. free.  Parking is free and within short walking distance.
For more info:
Call (914) 963-4550 or visit
www.hrm.org 
Pictured: The Andrus Planetarium's Zeiss telescope