Entrepreneur Jenifer Ross brought the coworking movement to Tarrytown, New York, when she opened Watercooler, which rents office space and conference space to independent workers.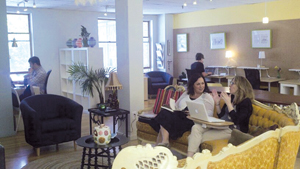 A few months ago, Jenifer Ross was sitting with her laptop open in Coffee Labs Roasters in Tarrytown, working on a freelance project, when she suddenly realized that everyone around her was doing exactly the same thing. Thinking there must be a better option for entrepreneurs like herself, Ross did some research and learned about coworking, a movement that strives to unite independent workers and provide a place for collaboration and knowledge sharing. Ross brought these ideals to Tarrytown on June 1, when she opened W@tercooler.
W@tercooler's loft-like atmosphere allows people to work independently but also to gather and share their skills. The space includes several work areas that members can rent by the hour, day, month, or year, along with access to wireless internet; a shared printer, fax, and scanner; office supplies; a shared kitchen; and the conference room.
Members can also attend various networking events and workshops hosted by W@tercooler (topics range from body painting to branding). Most importantly, members have access to the knowledge and experience of others who share the space.
For more information on coworking, visit www.coworking.com.
W@tercooler offers a free one-day trial for new members. It is located at 21 North Broadway in Tarrytown. 914-332-1400. www.watercoolerhub.com.